Stephen Durfee '85 Will Compete in World Pastry Cup
---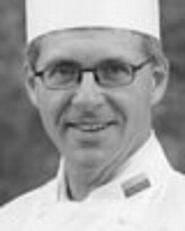 Stephen Durfee '85, a pastry chef instructor at The Culinary Institute of America, will represent the United States in January 2013 as one of three team members at Coupe Du Monde de la Patisserie (World Pastry Cup) in Lyon, France. Durfee will be the chocolatier on the team and work with a sugar artist and an ice carver to compete against 20 teams from Europe and Asia.
Durfee won his spot on the team after competing against three other American pastry chefs in April. During a two-day contest in Grand Rapids, MI, he prepared three deserts based on the theme "communication." Using Batman as his inspiration, Durfee created a chocolate cake with a custard filling shaped like the Bat-Signal, a nougat glacé, and a chocolate sculpture.

Durfee previously worked at The French Laundry restaurant in Yountville, CA. He was also a pastry chef at Charles Nob Hill in San Francisco and at the Wheatleigh Hotel in Lenox, Mass. He worked as a pastry instructor at Peter Kump's New York Cooking School and served apprenticeships in restaurants in Paris and Chambery, France.
He was awarded the James Beard Award for Pastry Chef of the Year in 1998 and was named one of the 10 Best Pastry Chefs in America by Pastry Art & Design and Chocolatier magazines in 1999.
At Hamilton, Durfee majored in American Studies. He was a member of the men's lacrosse team and of Chi Psi Fraternity.