Stephen Lefebvre '11 Named Hamilton's 31st GOLD Scholar
---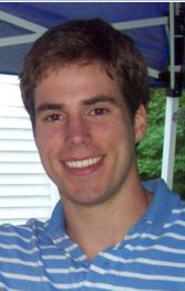 High School: Niskayuna High School
Major: Economics
Campus Activities: Men's Lacrosse Captain, Co-Founder/Vice President Finance Club, Hamilton Against Hunger Site Coordinator, Theta Delta Chi Member
Last Movie Seen in Theaters: The Other Guys
Favorite Movie: Goodfellas
Favorite Song: All Along the Watchtower by Jimi Hendrix
Places you've lived on campus: Dunham, Bundy, Rogers
Last Book Read: An Age of Turbulence by Alan Greenspan
Favorite Book: Gates of Fire by Steven Pressfield
Hobbies/Interests: Music, Hiking & Camping, Bow Fishing, Tennis, Golf, and Fitness
Favorite Place on Campus: The Blood Fitness Center. In my opinion, it is the best fitness facility in D3 athletics.
Favorite Campus Dining Location: Rogers
Fondest Hamilton Memory To-Date: Class and Charter Day, Spring 2008
Favorite Quote: "A pessimist sees the difficulty in every opportunity; an optimist sees the opportunity in every difficulty." – Winston Churchill
Where did you grow up and what was life like there?
I grew up in Niskayuna, New York. It is a small suburb of Albany located on the border of Schenectady. It is an ideal place to grow up because it is such a welcoming community and is centrally located to many entertaining areas such as New York City, Boston, Montreal and the Adirondack Park. When I was not in a sports season, I was usually hiking or camping in the Adirondacks with friends and family. I am a huge fan of the outdoors, so having such a tremendous regional park within driving distance was awesome. I also spent time at a number of musical events. The main venues are Saratoga Performing Arts Center (SPAC), Times Union Performing Arts Center (TUPAC), and "Alive at Five" in Albany. I had an extremely active childhood in Niskayuna; it was definitely a great place to live.
Describe your parents and/or family members?
My father spent the majority of his career with the Department of Justice as a bankruptcy attorney and trustee and currently works with the US Courts. He is clearly the source of my sense of humor. We are often on the same wavelength in terms of levity. He also gave me my love for music. My mother is an insurance underwriter, but stayed home for my middle school years. She is definitely the "cool mom," especially when it comes to sports. She was totally supportive in all my athletic endeavors and often had more enthusiasm than my teammates. Last, but also a strong influence in my life, is my younger sister. She is currently attending Le Moyne College, only a short car ride from the "Hill". She is a great sister and friend. I am truly fortunate to have such a wonderful family that supports me in everything that I do.

What was high school like? What were your favorite activities? Who inspired you?
My high school experience was fulfilling, but dominated by athletics. I was a two-sport athlete, playing football and lacrosse. I was immensely inspired by both of my coaches. My football coach, Jon Furey, really molded my friends and me into young men. He constantly stressed the importance of committing to excellence in whatever you do, performing confidently in stressful situations, and taking pride in whatever the outcome. My lacrosse coach, Mike Vorgang, taught me the importance of a strong work ethic. Our lacrosse team was typically successful, but he emphasized that past achievement did not guarantee future success. He engrained in me the understanding that nothing is given to you, only hard work determines success.

How did you discover Hamilton?
I wanted a liberal arts education with an emphasis on writing. I looked for a challenging academic atmosphere with an opportunity to play lacrosse. I also knew and respected the lacrosse coach, Scott Barnard. Hamilton was the perfect blend of academics and athletics. I toured the school on a spectacular fall day, and the beauty of the hill sealed the deal for me. It was at that point that I decided to apply early decision.

What were your first impressions of the College? Do you find they're still true today?
I was impressed on my fall tour as I drove up the hill; my head was on a constant swivel, drinking in all the aesthetically pleasing campus. There was a sense of excitement throughout the campus. We passed Commons and students were lounging outside eating in the sun, joking around, and just having a good time. Those who I spoke with seemed content with their decision to spend one of the most important parts of their lives at Hamilton. The impression that I got from the campus that day was accurate. My time at Hamilton has been as enjoyable as it has been rewarding.

What Hamilton voices have inspired you? Why?
My biggest inspiration academically was Professor James Bradfield, who also happened to be the academic advisor for the lacrosse team. He gave me great insights on which economic classes to take at Hamilton. He also encouraged me to take the most challenging classes available, stressing that it is important to take classes geared toward writing, even though my requirement was fulfilled. In my experience you do not improve unless you are challenged, so his advice definitely helped me attain the most from my experience at Hamilton.

Have you volunteered as a student? What did you find most rewarding about the experience?
I have participated in a number of voluntary activities including cleaning the Utica Zoo and working at a food shelter. My experience working with 'Hamilton Against Hunger' has been the most rewarding. A good friend founded the group, and I currently help as a site coordinator. The group organizes weekly sessions at which Hamilton varsity athletes meet in the dining halls, package the leftover food from the day and then ship it out to the food shelters. I also served the packaged food at one of the shelters with members from the lacrosse team. It was gratifying to see the impact Hamilton Against Hunger was having in the community.

What are your plans after Hamilton? Where do you want to live?
As an economics major, I have always had an interest in following the financial markets. Ideally, I will find a position in investment management, wealth management or investment strategy. I hope to end up in a city, possibly New York, Boston, Chicago, Washington, D.C. or even the west coast.

GOLD Scholars is an initiative supported by the Annual Fund, which has always provided direct support for the College's most important current priorities, especially scholarship aid. Since 2006 gifts from the GOLD Group – Graduates of the Last Decade – specifically support students on campus. With each $15,000 increment collectively contributed, the College will select a student as a GOLD Scholar for 2009-10.