Steve Haweeli '76 Among Fifty Around 50
---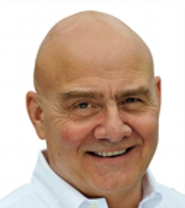 Steve Haweeli '76, founder of WordHampton Public Relations, was recognized by Long Island Business News as one of "Fifty Around 50 Class of 2010." The fifty Long Island business leaders, organizations, and companies were honored at an award ceremony Oct. 10 at Crest Hollow Country Club in Woodbury.
WordHampton, which Haweeli founded in 1992, represents hospitality, real estate, and lifestyle businesses, and has been ranked as one of the top 100 American independent public relations firms in the country. The company's Long Island Restaurant Week campaign won a "PRSA Big Apple Award for Marketing Consumer Services" in 2008.
Mr. Haweeli is a board member of the East Hampton Chamber of Commerce and Suffolk County Community College's Culinary Arts program and a member of the Long Island Association, Public Relations Society of America's Counselors Academy and Public Relations Professionals of Long Island.
At Hamilton, Haweeli majored in history. He was on the football team and a member of delta kappa epsilon.