Stewarts Visit Hamilton Students in France Program
---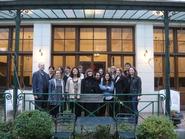 Hamilton President Joan Hinde Stewart and Philip Stewart visited the Hamilton College Junior Year in France Program in Paris, France, on a mild spring evening on March 18. They shared their memories of study abroad in France with Resident Director Cheryl Morgan and students currently studying with the Hamilton program.

Philip Stewart recalled the Paris of the early 1960s as a city in transition from post-war reconstruction to the period known as the "Trente Glorieuses," during which France underwent tremendous economic growth and modernization. Professor Stewart also noted that these early years of expansion were clouded by the final period of the Algerian war for independence from France.

President Stewart spoke with humor of her passion for French grammar, describing three memorable scenes in the films To Catch a Thief, April in Paris, and South Pacific, in which French language usage is not at all a dry affair. Both guests agreed that no matter the exchange rate, Paris was, and is, as Ernest Hemingway said, "a moveable feast." The gathering concluded with an informal reception and a group photo opportunity in the gardens of Reid Hall.