Stu Lombardi '09 Offers Advice on Applying to Law School
---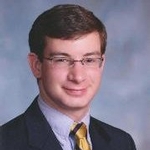 Stuart (Stu) Lombardi '09 offers the following advice to his fellow Hamiltonians after enduring the arduous process of applying to and being accepted at a number of top-tier law schools. Stu is currently in his third year at Columbia University Law School.
Take the LSAT Junior year, if at all possible. If you do well, you'll have a less stressful Senior fall, and you'll be able to get your applications out sooner. If you do poorly, you can retake it early Senior year.
Apply early. Ideally, apply in September. Applying early may boost your chances at some schools. Applying early shows that you're keenly interested, motivated, and organized. It also gets your application in front of Admission Committees before they've seen thousands of other apps, which could improve your odds. Applying too late puts you at a significant disadvantage at some schools. Earlier = better.
Before you write your personal statement, compare the essay prompts at various schools. Let's say you're applying to 10 schools. You probably won't have to write 10 essays. Odds are, the prompts will be very similar, and you'll only have to write 2 or 3 different essays. Then you can tweak the length of each essay to make it fit within each school's length limit.
If your state has a public law school you'd be happy attending, strongly consider applying. Even if the school is a bit out of your range, being a state resident may give you enough of a boost to get you in. Many state schools heavily favor in-state applicants.
If an application includes an optional "Why do you want to attend X Law School?" essay, it isn't optional! Either write the essay or include your reasons for wanting to attend in a detailed and well-polished cover letter. Many schools that offer such optional essays are concerned with their yield rates. These schools expect you to demonstrate a keen interest, particularly if you're an over-qualified applicant who will likely get accepted by higher-ranked schools.
Curious about your chances at various schools?
a. Visit the LSAC GPA/LSAT search tool, then click "UGPA/LSAT Search.") This LSAC search tool gives you a decent idea of how you might fare at various schools.
b. Check out LawSchoolNumbers.com. Law School Numbers provides detailed data, but it's also all self-reported, so it is subject to selection bias and potential false reports. Be certain to look for some safety schools.
c. Finally, check out hourumd.com to help you find reaches, safeties, and good matches. HourUMD uses data from LawSchoolNumbers.com to predict your odds of getting into various schools; accordingly, it is subject to the same potential biases as Law School Numbers.