Student-athlete profile: Hashem Zikry '13
---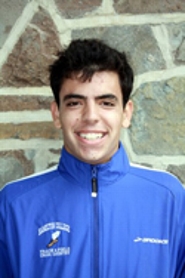 Hashem Zikry '13 has jumped out to a great start in his final cross country season at Hamilton College. Zikry has finished first and second in the first two races, and his victory in last Saturday's dual meet against nationally ranked No. 24 Rensselaer earned him New York State Collegiate Track Conference (NYSCTC) men's runner of the week honors. He earned a spot on the NYSCTC cross country all-conference third team in 2011 for his performance in the conference championship race. Zikry also competes on the indoor and outdoor track & field teams. In 2012, he finished third in the 5,000-meter run at the NYSCTC outdoor championships, and made the all-conference team for the first time in track & field. Zikry has racked up five NESCAC all-academic team honors during his Hamilton athletic career. He leads the men's cross country team into a challenging invitational hosted by Williams College on Saturday, Sept. 22. The men's race starts at noon.

Q: Tell us a little bit about where you grew up.

A: I grew up in New York City and went to Collegiate School on the Upper West Side of Manhattan. Despite being in the middle of The City and only having 200 kids, running was actually quite a popular and well-regarded sport. I'm not sure why that was true, but I think it had something to do with the fact that it was an all-boys' school. If my 15-year-old self knew that girls existed, I'm not sure I would be running today. I probably would have had the foresight to be a star quarterback instead.

Q: Did you participate in any other sports or activities before you came to Hamilton?

A: I played many sports before coming to Hamilton. I am a big proponent of runners playing as many sports as possible before fully committing to running. It helps keep you mentally balanced and gives you a nice competitive edge. In high school, I played lacrosse, tennis and basketball competitively before giving in completely to the lure of running. Recreationally, I still play those sports. I also play golf, squash, croquet, soccer and baseball, and go bowling whenever possible.

Q: What attracted you to Hamilton College? Was it the track & field and cross country programs or something else?

A: I was turned on by Hamilton the second that I stepped on campus. It was a beautiful day towards the end of the spring. It may seem petty, but my tour guide did an amazing job answering any questions I had about the school and convincing me why Hamilton is a special place. Four years later, I cannot even begin to thank her enough, as she was completely correct. My mother is convinced to this day that I only came because she was rather cute. Our coaching staff also did a great job articulating the camaraderie of our teams.

Q: You finished second and first in the first two races and you have been selected the NYSCTC men's runner of the week. Were you expecting such a solid start to the season?

A: I wish the start of the cross country season meant something, but sadly it does not. Hopefully, these early-season races are indicative of good things to come in October and November when real cross country racing starts. That said, I am very happy with the strides the team took over the summer, and the team is in a good spot to make some noise. I'm particularly impressed with our naïve, but talented, freshman class.

Q: What has been your favorite Hamilton cross country or track & field highlight from all of your seasons?

A: I particularly remember one extremely cold winter day when Scott Bickard '11 and I were on a long run during a massive snowstorm. He dragged me on this run in minus-10 degree temperatures to celebrate his birthday. This is indicative of the completely warped mentality of distance runners. After the 14-mile run, my beard was completely frozen over, but he was happier than I had ever seen him. As fun as it was looking back, I do not see myself getting talked into another "birthday run" anytime soon.

Q: Do you have any stories to share from when Peter Kosgei '11 (nine-time NCAA champ in XC and T&F) was competing here?

A: I will always remember the first race of my sophomore year when he kept hitting his thigh and clapping his hands (almost like calling a dog) to get two other Hamilton runners to move up in the race and run with him. I always found it amusing because he really wanted us to be at the front of every race with him, but never realized that sometimes we just did not have the physical ability to join him on his leisurely strolls to victory.

Q: How did you first get interested in track & field and cross country?

A: As I said earlier, for some strange reason it was actually a cool thing to do at my high school. I never realized how truly warped that perception was until I showed up at Hamilton. My junior year of high school, my coach sat me down and got me to truly buy into running as a lifestyle. Besides being overly competitive, what keeps me coming back every season is the people. Running at every level has perhaps the best community of any sport (see above for firsthand research evidence).

Q: How are you able to participate in a sport all three seasons and still excel academically?

A: Coming into Hamilton, I thought managing my classes and running fast was going to be overwhelming. However, I just take it day-by-day. Simply put, I show up to class, do my homework and get my workouts in. Yet mindlessly going through the motions does not give you quick feet and great grades. One must be in the correct mind-space. As Vince Lombardi once said, "Practice does not make perfect; perfect practices makes perfect."

Q: What has been your favorite class at Hamilton?

A: My Milton class with Professor Thickstun will always stand out. She was just so enthusiastic about the subject matter and at the end of the semester, I really felt as though I had an area of expertise within English. The Paradise Lost marathon reading was also really fun. I always recommend that class to friends at school. I also quite enjoyed my American Political Development class with Professor Klinkner (he is my thesis advisor, so hopefully he reads this and understands why my proposal is late).

Q: What will Hashem Zikry be doing five years from now?

A: I will hopefully have passed medical school and will be starting my residency somewhere out West where there is room for tons of outdoor activities! I will also hopefully still be running and winning a footrace here and there.