Student-athlete profile: Ally Martella '13
---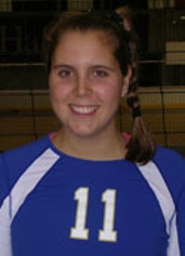 Ally Martella '13 plays her last match inside Margaret Bundy Scott Field House as a member of the Hamilton College women's volleyball team this weekend. Martella has been a solid contributor her entire Hamilton career, as she has played in 359 of 379 sets. She is ranked fourth on the program's all-time list in blocks, and has posted more than 500 kills and 100 aces. Martella is a two-year team captain and was the program's representative on the NESCAC all-sportsmanship team in 2009. She and classmate Amanda Cohen '13 will be honored prior to Friday night's NESCAC match, which starts at 8, against Williams College. The Continentals wrap up their 2012 home schedule with matches against Middlebury College and nationally ranked No. 12 SUNY Cortland on Saturday.

Q: Tell us a little bit about growing up in the U.S. capital.

A: Well, funny story. I grew up in Kuwait, Brazil and D.C. really. When I was younger we moved around a lot for my Dad's job. Brazil was probably the most amazing experience ever. But I was still pretty young. I was lucky enough to spend middle and high school in D.C. It's such a great city! The monuments and the National Mall are always there and so accessible, and there are lots of cool neighborhoods. D.C. is probably the reason I love to walk because everything is so close together and there's so much to see!

Q: You played both volleyball and softball your first two years here, did you play any other sports before you came to Hamilton?

A: I played basketball my freshman and sophomore year in high school. I also used to be on a snowboard team.

Q: What attracted you to Hamilton College and the volleyball program?

A: I knew I wanted to go to Hamilton when I arrived for my overnight for volleyball. I had been looking at mostly NESCAC schools, and Hamilton was the first I visited. The science center definitely added a lot to Hamilton's campus. It's my favorite building on campus. I was attracted to Hamilton volleyball because I thought I would have an opportunity to be a big part of a young team and help build it. It's been a great experience and I've had tons of fun.

Q: How did you get interested in volleyball?

A: To be honest, I hadn't really heard about volleyball until middle school. I had to choose between soccer and volleyball. I really didn't like playing soccer, so I started playing volleyball and haven't stopped.

Q: You are a two-year captain on the volleyball team, what characteristics make a good leader?

A: A good leader is steady and consistent. Leaders have to be an example on the court as well as off the court when the team needs it. Leaders aren't just about being great players individually; they need to put the team first and do what they can to improve the group as a whole.

Q: As a middle, what is your favorite play to make, a kill or a block? Why?

A: Actually neither. I LOVE to draw the block. That's when I'm calling for a set and being so loud and enthusiastic that the blockers on the other team think I'm about to hit. At the last moment, our setter sets to another hitter, and that hitter has a completely open shot on the court with no blockers. It feels great to trick the other team and see another teammate have a killer shot. It doesn't happen too often but when it does I get so pumped!

Q: What has been your favorite Hamilton volleyball highlight from all of your seasons?

A: Last year when we beat Trinity. We were so excited, we played so well and we wanted it so badly. That was a point when we finally proved to ourselves that we were, and could continue to be, competitive in the NESCAC.

Q: You were the team's representative on the NESCAC all-sportsmanship team your first year. What does sportsmanship mean to you?

A: I guess good sportsmanship is something that you have and don't expect people to notice. I feel that at a collegiate level it's almost a given. At this point we should all be mature athletes, right?

Q: Any thoughts on playing at home for the last time this weekend?

A: I can't believe it's already here. It definitely hasn't hit me that this will be the last time I'll be competing in the field house. I loved the past three years, and this year has been even better. Oh, gosh. Can I stop thinking about it ending?

Q: What is your favorite class you've taken at Hamilton?

A: Kinesiology last fall is probably my favorite so far. It was about muscles and bones and movement. I'm so interested in the movement of the body, especially when related to sports. I may be trying to take a particular physics class in the spring -- Physics of Musical Sound -- which sounds incredibly interesting, so by then my favorite class may have changed.

Q: What will Ally Martella be doing five years from now?

A: I hope to be a physical therapist or on my way to that career.