Student-athlete profile: Charlotte Cosgrove '13
---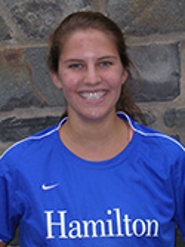 Charlotte Cosgrove '13 has helped the Hamilton College women's soccer team advance to the postseason all four years, including a 2012 NESCAC Championship quarterfinal at Bowdoin College on Saturday, Oct. 27. Charlotte has played in 56 games at midfield for the Continentals, and she scored her fifth career goal in her final regular season game -- a 5-0 win at Utica College on Tuesday. She helped the team make it's third NCAA championship in program history as a sophomore in 2010, and would love to lead Hamilton to the NCAAs one more time.

Q: Tell us a little bit about where you grew up.

A: I grew up in Chatham, New Jersey, about 30 miles west of Manhattan. I have lived there my whole life and I love it. It's the perfect mix of a small town feel with a great proximity to New York.

Q: Did you play any other sports before you came to Hamilton?

A: In addition to soccer, I played basketball and lacrosse in high school.

Q: How did you get interested in soccer?

A: When I was in first grade I heard about a tryout for a travel soccer team. I told my mom that I wanted to try out, mostly because my friends decided to try out as well. I ended up making the team and started playing in second grade. Even though I was not very good when I first started, I loved the game and have played ever since!

Q: What attracted you to Hamilton College and the women's soccer program?

A: After looking at schools, I decided I wanted to go to a small NESCAC college. I just liked the look and the feel of Hamilton's campus. With regard to soccer, it is a good, competitive program that still allows for the opportunity to travel abroad during the off-season. And, of course, the very competent coaching was also a draw! After meeting (head coach) Colette Gilligan and coming to watch a game and staying with the team, I knew it would be a good fit for me.

Q: What memories do you have from the NCAA championship your sophomore year?

A: Traveling to the NCAA tournament in Baltimore was a fantastic experience. Not only did we progress to an additional round, but the food and shopping at the Inner Harbor were clutch!

Q: What has been your favorite Hamilton soccer highlight from all of your seasons?

A: I have two favorite Hamilton soccer highlights. The first is a goal I scored against Amherst College last year. The second is seeing Alex Rimmer '13 break the all-time Hamilton goal-scoring record (on Oct. 23 at Utica College).

Q: What is your favorite class you've taken at Hamilton?

A: One of my favorite classes, besides those for my major, was a modern art history class. It was really interesting to learn about something completely new and different than any of my science classes. It is great that we have the opportunity to explore different areas of study at Hamilton.

Q: You have made the postseason each of your four years here at Hamilton. And, as a neuroscience major, I am sure you have a difficult work load. Do you have any advice about how to excel both on the field and in the classroom?

A: My schedule is busy, but the old saying is true: Busy people get more done. My advice is to enjoy all aspects of Hamilton; play sports, study, go abroad, join a club, go to a concert. Take advantage of every opportunity!

Q: What will Charlotte Cosgrove be doing five years from now?

A: I will be finishing medical school, possibly, but I have to get in first! No matter what, I'll be enjoying the journey.