Student-athlete profile: Dan Tempest '13
---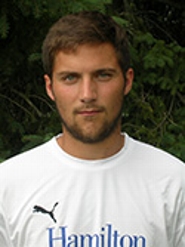 Dan Tempest '13 has been a regular in the Hamilton College men's soccer lineup since his freshman year. Tempest has started 40 of the 44 games he has played in the back. Last year as a junior, he made the NESCAC fall all-academic team and scored his first two goals for the Continentals. In 2010, Tempest was selected to the Liberty League all-league team despite playing just nine games. His value to the team's defense can't be understated. Tempest will help lead Hamilton into another important NESCAC game against Bates College at Love Field this Saturday, Sept. 29, at 1:30 p.m.

Q: Tell us a little bit about where you grew up.

A: I grew up in Hopewell Junction, New York, which is right near Poughkeepsie. It's about three hours from Hamilton and an hour-and-a-half north of New York City. My high school had around 3,400 students, so it was a pretty big change coming to a college that's a little more than half the size of my high school. Soccer is huge where I'm from. I've been playing against some of the best competition in the state my entire life.

Q: Did you play any other sports before you came to Hamilton?

A: Growing up I played almost every sport you can imagine. Basketball was my favorite until I got to high school, but I decided to give it up after freshman year and split my time between soccer and track & field.

Q: What attracted you to Hamilton College and the soccer program?

A: Like everyone says, I fell in love with Hamilton as soon as I stepped on campus. The academics are great, the campus is beautiful and I love the small classes. When I came to visit, I was able to watch a soccer game, meet some of the guys on the team and then talk to Coach (Perry) Nizzi. I was impressed with the quality of the players and the coaching staff. Nizzi and both of our assistants are great coaches, and really pushed for me to come to Hamilton.

Q: Do you have any good memories from your freshman season here in 2009?

A: I have a couple good memories from freshman year. I'll always remember my first start in the first game of the year against RIT. The intensity and the speed of the game were surprising to me, and I felt pretty overwhelmed, but it was a good introduction to college soccer. I also remember beating St. Lawrence, 1-0. They were one of our biggest rivals at the time and we scored with less than five minutes to go to get the win.

Q: You have scored two goals in your Hamilton career as a defender, both against Utica College last season. What was that like?

A: That was definitely one of the highlights of the season for me, especially because it was also my 21st birthday. Those were the first goals I scored for my school team since when I played junior varsity in high school. Utica was a really important game for us because it was the last game of the year and we wanted to end the season on a strong note. They are our cross-town rival, so we always need to find a way to beat them. Luckily, I was in the right place at the right time and was able to finish both of them.

Q: What has been your favorite Hamilton soccer highlight from all of your seasons?

A: Obviously the Utica game was one of my favorites, but the other highlight was beating a really talented Tufts team in double overtime last season. We needed a win to keep our playoff hopes alive, but we gave up a goal early to go down 1-0. We equalized late in the second half and then in the second overtime we got the game winner. We had a ton of fans there and that made it much sweeter when we won.

Q: How did you get interested in soccer?

A: I started playing when I was 4 or 5 years old and never gave it up. I watched my high school team win the state championship when I was 9 and it became my goal to play for them one day. It also helped that I could look forward to playing for one of the best coaches in the country in Gary Montalto.

Q: What is your favorite class you've taken at Hamilton?

A: I really liked my statistics class with Professor Knop sophomore year. People think I'm crazy, but I actually like math. Another one of my favorites was pop culture/pop religion with Professor Plate. It was a cool class where we explored how religion intersects with popular culture.

Q: In 2011 you were on the NESCAC all-academic team and in 2010 you earned Liberty League all-league honors and made the all-academic team. Do you have any advice about how to play a varsity sport and still excel in the classroom?

A: It all comes down to time management. I actually find that I do better academically when I'm in season because I have a strict schedule to follow every day. I go to whatever classes I have that day, then to practice, then to dinner and then usually straight to the library to get all my work done. When you know that you have to dedicate a couple hours a day to your sport, you have to plan ahead in terms of when you're going to get all your work done.

Q: What will Dan Tempest be doing five years from now?

A: Hopefully, I'll be working in the insurance industry as an actuary. And I'm sure I'll find some time to keep playing soccer.