Student-athlete profile: Emily Heckman '13
---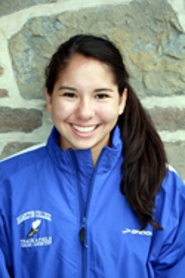 Emily Heckman '13 (Chester Springs, Pa./Conestoga HS) and the women's indoor track and field team host an invitational at Hamilton College's Margaret Bundy Scott Field House on Saturday, Jan. 26. Emily has been a team captain for the cross country and indoor track and field programs, and she also competes during the outdoor season. She has earned four NESCAC all-academic team honors and has enjoyed a great deal of athletic success in indoor track. Emily earned New York State Collegiate Track Conference all-conference honors for exceptional performance for the 4x800 relay in 2011 and 2012, and was all-conference for finishing in the top eight in the same event at the 2012 Eastern College Athletic Conference Division III Championships.

Q: Tell us a little bit about where you grew up.

A: I grew up in the suburbs about 40 minutes outside of Philadelphia. Fun fact -- I live about 20 minutes from the biggest mall in the U.S. in terms of store space.

Q: Did you play any other sports before you came to Hamilton?

A: I played lacrosse and soccer in high school. I played lacrosse freshman through junior year and then switched over completely to the three seasons of cross country, indoor track and outdoor track for my senior year.

Q: How did you get interested in cross country and track & field?

A: When I played soccer and lacrosse my biggest strength was my speed and endurance. The practices where we ran a timed mile were the highlights for me. The cross country coach was running cross country practice while we ran the mile for soccer and told me that I should try running cross country. My soccer coach agreed, which shows how good I was at soccer, since both sports were during the fall.

Q: What attracted you to Hamilton College and the women's cross country/track & field program?

A: I liked the overall feel at Hamilton. I did an overnight with a girl on the cross country and track team and found all of the girls on the team to be friendly and welcoming. When I met the team and coach Hull, I knew that I would be happy here.

Q: What has been your favorite Hamilton athletics highlight from all of your seasons?

A: I would say the biggest highlight was being part of the 4x800 relays for indoor track my sophomore and junior year. We finished in first place for the relay at the New York State Collegiate Track Conference championships both years and advanced to the Eastern College Athletic Conference Division III meet where we earned all-conference honors. Hopefully we'll do it again this year!

Q: Hamilton is hosting an indoor track and field invitational on Saturday. How are you feeling going into the meet?

A: Unfortunately, I will not be competing in the meet because I am coming back from a foot injury suffered during cross country season. I hope to be back by the next home invitational (on Feb. 9)!

Q: You have been a team captain for both the cross country and indoor track and field programs. What do you think makes a good leader?

A: There are so many different types of leaders, but I would say that a good leader is friendly and enthusiastic. They should make others feel comfortable, but not be afraid to hold others accountable.

Q: You own a number of all-conference and all-academic honors. Do you have any advice about excelling in athletics and in the classroom?

A: My best advice about how to balance athletics and academics would be to plan everything the day before. I definitely feel more inclined to spend a few hours working, running or going to the gym if I plan when I'm going to do it ahead of time. It's also important to build in time for things that aren't athletics and academics. Breaks are important too.

Q: What will Emily Heckman be doing five years from now?

A: This summer I start a new job at a big accounting firm in Philly, where I had an internship last summer. Hopefully I will really enjoy working there, and will be done with business school by then! I'd really like to get into triathlons and perhaps some marathons as well.