Student-athlete profile: Hans Schulte '13
---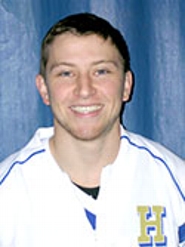 Hans Schulte '13 is in the midst of his second season as a starting guard on the men's basketball team. Hans has been part of a program that made the postseason in each of the past two years, including the 2011 Liberty League championship game. One of the team's captains, Hans will help lead the Continentals into their first home NESCAC weekend of 2012-13. Hamilton hosts nationally ranked No. 21 Amherst College on Friday, Jan. 11, at 6 p.m., and takes on Trinity College on Sunday, January 13, at 2.

Q: Tell us a little bit about where you grew up.

A: I grew up in High Falls, New York. It is a pretty small town about an hour south of Albany. By the standards of most students at Hamilton, it is definitely "in the boonies." It is a beautiful area, especially in the fall. I live just minutes from Mohonk Mountain House, a national historic resort founded in the late 1800s. The area is a very popular weekend destination for hikers, climbers and outdoor enthusiasts.

Q: Did you play any other sports before you came to Hamilton?

A: I played golf and ran track, in addition to playing basketball, in high school. Track was a means of staying in shape in the spring. I was much more passionate about golf. I made it to the New York state public high school championship my senior year. I played golf here at Hamilton my freshman and sophomore years, but three seasons of athletics in one school year became too taxing. When push came to shove, basketball won out like it always has for me.

Q: How did you get interested in basketball?

A: My interest in basketball began when I was very young. My older brother Gerhard started playing CYO basketball and I would go to his practices and watch. As I got older, I began to play with my brother and his friends. From that point on, I was always playing, dribbling a basketball in my basement, or watching games on TV. Basketball was always very enjoyable for me, as most of my friends played as well. I never had to choose between playing basketball and hanging out with friends, because my friends were almost always playing with me.

Q: What attracted you to Hamilton College and the men's basketball program?

A: The high academic standards were the first thing that impressed me about Hamilton. I really liked that there were no required courses, so I did not have to take classes I wasn't interested in. The fact that Hamilton was relatively close to home made it more attractive. My family and I are very close, and I liked the idea of being close enough to home to make the trip comfortably in a day. The storied history was the first thing that drew my attention to the men's basketball program. The number of jerseys in the rafters said all I really needed to know about the quality of the basketball program here.

Q: What has been your favorite Hamilton basketball highlight from all of your seasons?

A: I would say there is a tie for my favorite moment. First, beating Hobart College in the semifinals of the Liberty League championship my sophomore year was very exciting. Hobart had beaten us twice that year and each game was very close. There was certainly some bad blood between our two teams that season. Coming into the semifinals, we felt they had been looking past us towards the championship game. We won a hard-fought game and knocked them out of the conference tournament. That was certainly a sweet win. The second moment that stands out to me is our final home weekend from last season. Going into the weekend, our playoff future was uncertain. Several of our players had been injured earlier in the season, which contributed to several close losses in conference play. We knew that two wins would guarantee a trip to the playoffs in our first season in the NESCAC. We won two very close games that weekend, including a win on senior day. It was satisfying to both make the playoffs and send our seniors out in style.

Q: You played your first NESCAC competition last weekend and are playing Amherst and Trinity at home this weekend. How do you feel about the team going into the weekend and for the rest of the season?

A: Our team has certainly had some challenges this season. After losing Pat (Sullivan) to graduation, it took us a little while to find our identity both offensively and as a team. But we have definitely made strides as a team since our first game against Manhattanville. Our overall intensity and team chemistry has improved dramatically and I am very confident heading into this weekend. Amherst will pose a big challenge for us, but our team is on the rise and has yet to play our best basketball. I am excited to see how we face up against two very strong defensive teams this weekend. As for the rest of the season, our team is poised to make some noise in the NESCAC.

Q: What is your favorite class you've taken here at Hamilton?

A: My favorite classes have been How Things Work and Astronomy. How Things Work was a great class because it teaches the physics concepts that apply to everyday life with great in-class demonstrations. Astronomy was a fun class because learning about the universe was extremely interesting.

Q: You have been part of all-academic teams as a member of the basketball program. Do you have any advice about playing a varsity sport and still excelling in the classroom?

A: The biggest key to excelling in the classroom and in your sport is time management. You have to set aside time every day for your work. Even if you don't have any on a given night, you can always get ahead on your work. While most students can procrastinate in high school and be fine, that simply does not work at Hamilton. You don't have to be in the library until 3 a.m. if you plan ahead and manage your time (although during finals week all bets are off). When you are in the off-season, you have to make sure you continue to manage your time. The earlier you establish these habits in your college career, the less stressful your four years will be.
Q: What will Hans Schulte be doing five years from now?

A: In five years I will likely be working in finance. The city I will work in is up to chance at this point, but hopefully I will be in New York, Boston, or another city in the Northeast.