Student-athlete profile: Kim Goidell '13
---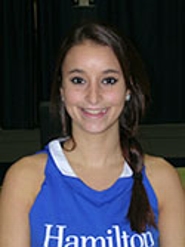 Kim Goidell '13 is a team captain and three-year letter winner on the women's basketball team. Kim and her teammates go for their fourth straight win on Saturday, Dec. 8, when they host Alfred University for a non-conference game at 2 p.m. Last season as a junior, she led the NESCAC with 35 minutes played per game, and made the NESCAC winter all-academic team. Kim entered the week tied for sixth in the conference in steals per game and ranks second on the team in assists.

Q: Tell us a little bit about where you grew up.

A: I'm from Centerport, New York, which is a small suburb on Long Island. It's a very tight-knit and supportive community. People rally around the high school sports teams. I loved growing up there because of the easy access to the beaches, the close proximity to the city (about 45 minutes without traffic) and the amazing pizza.

Q: Did you play any other sports before you came to Hamilton?

A: Growing up, I played tennis, basketball, soccer and softball, and competed in gymnastics. In high school, I played on the basketball and tennis teams.

Q: How did you get interested in basketball?

A: Everyone in my family loves sports, and my cousins, my brother and I always played basketball when we were growing up. I looked up to my older cousins, who were really athletic, and I always joined them whenever they went outside to play with my dad and uncle. Basketball was really popular in my town, and both the girls' and boys' basketball programs at my high school were great. I attended many of those games while I was in elementary and middle school.

Q: What attracted you to Hamilton College and the basketball program?

A: I loved Hamilton College's small size, its open curriculum and the idea of a small faculty-to-student ratio. I knew that I wanted to have the opportunity to develop relationships with my professors. I was immediately impressed by the Science Center, which was important to me because I wanted to major in either psychology or neuroscience before I came to Hamilton (I chose psychology).

As for the basketball program, I had a great overnight visit, and everyone I met was really welcoming and informative. I liked that basketball and academics were considered to be equally important by both the coaches and players.

Q: The team made the semifinals of the Liberty League championship your freshman year. What was that like?

A: It was definitely very exciting to be a part of that. It was a lot of fun to play in the championship tournament my first year of college basketball. I learned a lot from my coaches and teammates during my freshman year. Losing in the semifinals motivated my teammates and I to work even harder in the offseason and throughout the course of the next few years, which will pay dividends this season.

Q: What has been your favorite Hamilton basketball highlight from all of your seasons?

A: The most exciting highlight was beating St. Lawrence University my sophomore year. We were having a tough season up until that point, and St. Lawrence was the best team in the league. It was a game in which contributions from a lot of different people boosted our confidence in each other. My favorite highlight, however, has been our team Catch Phrase games (gets pretty intense).

Q: With the recent three-game win streak, are you optimistic about the direction the team is going in this season?

A: Definitely. We're playing really well together right now because everyone is starting to trust each other more and more each day. The upperclassmen have a lot of experience, the younger players have done a great job adjusting to the program and the level of play, and our coaches are creating a smooth transition into the new season for all of us. We work hard and are competitive, so this will be a really exciting year for us!

Q: As a team captain this season, what do you think makes someone an effective leader?

A: The most important thing is to remain stable and level-headed regardless of anything else that might be going on, so that your coaches can trust you to serve as a reliable resource for your teammates about issues relating to your sport or just life in general. The most effective leaders are the ones who earn respect by setting the example with hard work and by challenging others to work harder and improve every day.

Q: What is your favorite class and/or professor so far at Hamilton?

A: I've taken a lot of great classes at Hamilton thus far, but my favorite one was probably adult psychopathology. I've always been interested in mental health and psychological dysfunction, so the course material was geared towards some of my primary interests. My favorite professor is Jen Borton, who is now my thesis advisor! She's very knowledgeable and willing to help, and most importantly, she makes learning really enjoyable for me.

Q: Last year you made the NESCAC winter all-academic team, and led the NESCAC in minutes played with almost 35 per game. Do you have any advice on how to excel both in the classroom and on the court?

A: Manage your time and stay organized. I keep a pretty detailed (borderline neurotic) calendar of my athletic and academic schedules. It sounds sort of trivial, but it's a technique that's helped me balance my academic and athletic demands effectively.

Q: What will Kim Goidell be doing five years from now?

A: Hopefully I will be living either on Long Island or in New York City doing psychology research and/or working in a hospital with the mental health population. And I also want to start kickboxing, yoga and running marathons when basketball is over because I want to stay in shape! Whatever I end up doing, I'll make sure that it is something that is satisfying and fulfilling.