Student-athlete profile: Leah Cairns '13
---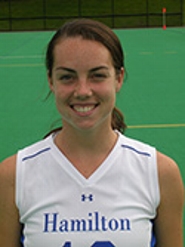 Leah Cairns '13 is a two-year starter and 2012 team captain for Hamilton College field hockey. She had missed just one game in her collegiate career heading into her final season with the Continentals, and was ready to lead the defense this year. But in the first game of the season against Trinity College, she suffered a leg injury and missed the next seven games. Leah returned to the lineup last week and played all 70 minutes in her final home game against Colby College on Sunday. She earned a spot on the 2011 NESCAC Fall All-Academic team, and played on the 2009 squad that competed in the NCAA championship for the first time in program history.

Q: Tell us a little bit about where you grew up.

A: I grew up in Andover, Mass., which is about 30 minutes outside of Boston. Hamilton is roughly the same size as Andover High School, but it feels a lot bigger.

Q: Did you play any other sports before you came to Hamilton?

A: I played a lot of sports growing up, including soccer, softball and ice hockey. In high school I played field hockey and was on the track team. My events were sprinting, hurdles and shot put.

Q: What attracted you to Hamilton College and the field hockey program?

A: Initially, I didn't want to come to Hamilton at all. My sister played ice hockey here, and I wanted to separate myself from her a bit. But after I visited campus and met the team, I knew that Hamilton was where I wanted to be. I was also attracted to the number of students who are able to do research at Hamilton.

Q: How did you first get interested in field hockey?

A: I decided to join the Andover youth program in seventh grade, and I loved the sport and my team right away. My high school coach was also very supportive and encouraging from the start, which was incredibly helpful as a young player.

Q: You are a captain this year, what characteristics make a good leader?

A: I think that flexibility is the most important quality in a leader. I've learned this season that a leader has to be able to adapt his or her style to suit individual people or situations.

Q: Your freshman year, the team made the NCAA championship for the first time in program history. What was that like?

A: Playing in the NCAA tournament was an incredible experience. I remember the moment when we found out that we had received an at-large bid. It was such an awesome surprise and the entire trip to Ohio lived up to my expectations.

Q: What is your favorite Hamilton field hockey highlight from all of your seasons?

A: Our overtime win against William Smith my sophomore year was my most nerve-wracking moment, but also the happiest.

Q: This season has been different than your first three years here, but the team has shown improvement on the field as the season progressed. Do you have any thoughts or reflections on the team this season?

A: Even though our record is not as good as it has been in the past, our team chemistry is still very strong. We work hard every day in practice, and every game we try to make small improvements.

Q: In 2011 you were on the NESCAC fall all-academic team. Do you have any advice for incoming freshmen about playing a varsity sport and still excelling in the classroom?

A: It's all about budgeting your time. You have to commit enough time and energy to both your team and your schoolwork, but most importantly you have to remember to enjoy both.

Q: What is your favorite class you've taken at Hamilton?

A: It's a tie between my seminar on Jane Austen Text and Films with Professor O'Neill and Biochemistry with Myriam Cotten. Both classes cover subjects that I love, and both professors are passionate about the subjects they teach and their students.

Q: What will Leah Cairns be doing five years from now?

A: I'm applying to graduate schools this fall to study structural biology. So hopefully in five years I'll be close to getting my PhD!