Student-athlete profile: Melissa Kaknis '13
---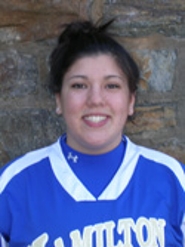 Melissa Kaknis '13 is a four-year starter at third base for the Hamilton College softball team. Melissa will help lead the Continentals into a three-game NESCAC West Division series at Middlebury College on Saturday and Sunday, April 13 and 14. She is one of the reasons why Hamilton is ranked in the top 10 in NCAA Division III with a .972 fielding percentage. Melissa, who is a mathematics major, also tops the team with a career-high 13 runs batted in this year.

Q: Tell us a little bit about where you grew up.

A: I grew up in New Windsor, N.Y., which is about 40 minutes south of Poughkeepsie. I went to a big high school, Newburgh Free Academy.

Q: How did you get involved in softball?

A: I pretty much grew up on a softball field. My parents put my sisters and I in T-ball at age five and we continued to play in Little League until sixth grade. My older sister, who is four years older than me, started playing travel ball and school ball so I basically just followed in her footsteps.

Q: Did you participate in any other sports before arriving at Hamilton?

A: I played soccer throughout high school and basketball until my sophomore year for fun and to stay in shape for softball. Softball was a year-round sport for me, so even though I was playing other sports, softball took up the majority of my time.

Q: What attracted you to Hamilton College and the softball program?

A: I wanted a small school where I could play softball and be challenged academically. On my overnight, I got along well with the softball team and I liked how friendly and involved everyone was on campus.

Q: As a four-year starter at third base, you have only committed 15 errors in your career at Hamilton, including just one your sophomore season. How do you prepare yourself in the field when you have no idea where the ball is going to be hit?

A: I'm not really into stats, but that is pretty cool. Fielding is not something I think about, I just do it.

Q: On the opposite side of the field, you lead Hamilton with 13 runs batted in, which is a single-season best for you. Has anything changed this year that has put you in a spot to produce more runs?

A: A lot of things have changed this year, but the main one is that I have so many years of softball under my belt because I am one of the oldest players on the field. Coach Bill Spicer's out-of-season and in-season workouts helped me develop better mental toughness. Because of those things, I feel less pressure in intense situations. Coach Liz Slupinski has also come up with tons of drills to fix whatever fundamental skill is off that week. I spend a lot of extra time out of practice working on hitting with her. It also helps that those batting before me find gaps and get on base.

Q: The team knocked off NESCAC West Division rival Amherst College for the first time in your career with a 13-7 win on April 6. What does a win like that mean to you?

A: It means that all of our hard work over the summer, in the weight room with coach Paul Adey, during dynamic and during the weeks in season before we started playing games paid off. Every player contributed to get that win and I am proud of each and every one of them for that. Amy Appel '13, Lisa Faraci '13 and I have come so close to NESCAC wins before and it's exciting to see it happen as seniors.

Q: Since returning from sunny Florida, the team has yet to play a game on campus due to snow and rain. Talk about the frustrations of playing softball in Central New York during the spring.

A: This season we have had a ton of curve balls thrown at us. If it's not our field being covered with 8 inches of snow at the end of March, it's three days of constant rain in April. Whatever will be will be. All we can do is stay positive. At this point it's not about where we play, but the fact that we will play no matter the location.

Q: Hamilton is playing a NESCAC West series at Middlebury College this weekend. What must the team do to pickup a few wins on the road?
A: We need to put our offense and defense together. When we have both, we win games.

Q: Softball and baseball are two sports where players are known to have superstitions or routines they go through each game. Do you have any that you would like to share with us?

A: I like to listen to feel-good songs before a game. This year, the team's been listening to "Heart Vacancy (DJs from Mars Remix)" by The Wanted and "Cruise Remix" by Florida Georgia Line featuring Nelly. This is new, but I also keep a coin coach Spicer gave us in my back pocket. It has our team motto "One Team, One Dream" on it.

Q: What has been your favorite memory from all of your seasons with the softball team?

A: I always tell the underclassmen after a tough loss or a tough day at practice that it's not about how well the team did or how well you performed on the field, it's about the experiences and memories you have with your teammates and coaches. When my softball career ends in a few weeks, I am not going to remember the records of past seasons, but rather the countless hours I spent with teammates hanging out, goofing off, doing homework together and playing the sport I love. The teammates and coaches I have had over the past four years have become my family, and I thank them for making my college experience amazing.

Q: What has been your favorite class at Hamilton?

A: In some weird way, I really enjoyed linear algebra with Professor Knop. The material was interesting and challenging so I spent a lot of time in office hours trying to figure out what was going on. That was the first class where I started to build bonds with other math majors. I have since taken other classes in other departments with those friends.

Q: What will Melissa Kaknis be doing five years from now?

A: That is an interesting question and one I would truly like to know the answer to as a bunch of my friends are finding their dream jobs. I know I will have a career that I enjoy and I will be surrounded by good friends and family.