Student-athlete profile: Melissa Mann '13
---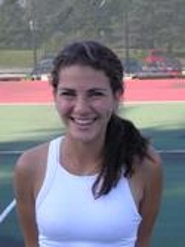 Melissa Mann '13 plays her final women's tennis match for Hamilton College at Connecticut College on Saturday, April 27. Melissa is enjoying a successful senior season with records of 5-3 in singles play and 9-5 in doubles. She helped the Continentals win eight straight matches -- the team's longest streak since 2004 -- earlier this season. For her Hamilton career, she has won 13 singles matches and 21 doubles matches. Melissa is a two-time NESCAC spring all-academic team selection and a three-year varsity letter winner.

Q: Tell us a little bit about where you grew up.

A: I grew up in Short Hills -- a sheltered suburb in northern New Jersey.

Q: How did you get involved in tennis?

A: I've been playing ever since I can remember. I've had a racket in my hand since before pre-kindergarten.

Q: Did you participate in any other sports before Hamilton?

A: In all honesty, I was beyond awful at both soccer and basketball. I played for two or three years on recreation teams before my father gave up on me and let me just play tennis. I played lacrosse for two years in high school, but I had to quit because I skipped too many practices for tennis training.

Q: What attracted you to Hamilton College and the women's tennis program?

A: I was originally recruited to Lehigh University, but I soon realized that Lehigh was big on engineering and greek life -- neither of which I was interested in. Luckily, I won the New Jersey State Doubles Championship, sent out another round of recruiting forms and Hamilton was interested. I came to visit, fell in love with the school and the community and the rest is history.

Q: You've spent an equal time of your career playing both singles and doubles. Is there one you enjoy more and why?

A: Doubles, absolutely. I miss playing with teammates instead of next to them, and doubles is as close as we get. Doubles is a lot more volleying and net play, which is really fun.

Q: From September 26 through March 22, the team enjoyed an eight-match win streak, the longest since 2004. Talk about how the team rallied to put this streak together.

A: The team is the strongest it's been since I got here in 2009. Our team is really deep and more than half our team is stacked with super-talented freshmen and sophomores. Cheering is also a huge deal. It becomes a courtside competition between the competing teams and we have definitely upped our cheers, which gets everyone excited.

Q: In the latest Intercollegiate Tennis Association polls, seven NESCAC teams were ranked in Division III. Tell us about the competition you are facing in the conference and what Hamilton must do to compete.

A: The NESCAC is incredibly tough. We use the matches against No. 1 Amherst and No. 3 Williams as opportunities to play every shot we've been working on, and to show the opponent that we're tougher than they think we are. In terms of future competition, it'll be a matter of recruiting and training intensity.

Q: What has been your favorite memory from all of your seasons with the tennis team?

A: I would have to say that my favorite memory was from our spring break trip to Florida this past March. We played two tough teams (Calvin and Otterbein) with multiple matches going into third sets and tiebreakers, and we won both matches! These were matches that the team would not have been strong enough to win a couple of years ago, and it was great to see how far we'd come.

Q: You are a two-time NESCAC spring all-academic selection and have three varsity letters. What is your advice for excelling both on and off the court?

A: Time management. I definitely do my fair share of procrastinating, but if you still want to get a decent amount of sleep to prepare for a match or give your all at practice, you can't pull all-nighters. The key is to make a schedule and just stick to it.

Q: What has been your favorite class at Hamilton?

A: Tie between Data Analysis and Rhetorical Act. I'm not math-minded at all and Data was one of the most challenging classes I've taken at Hamilton. But it was so interesting, and the statistical methods I learned will be useful throughout my career no matter what I do. Rhetorical Act is the only class that focuses on oral presentations over written work. I now know how to write and effectively deliver a speech, which gives me more confidence for class presentations and job interviews.

Q: What will Melissa Mann be doing five years from now?

A: Hopefully working at an environmentally focused, non-profit organization.