Student-athlete profile on Jack Winter '14
---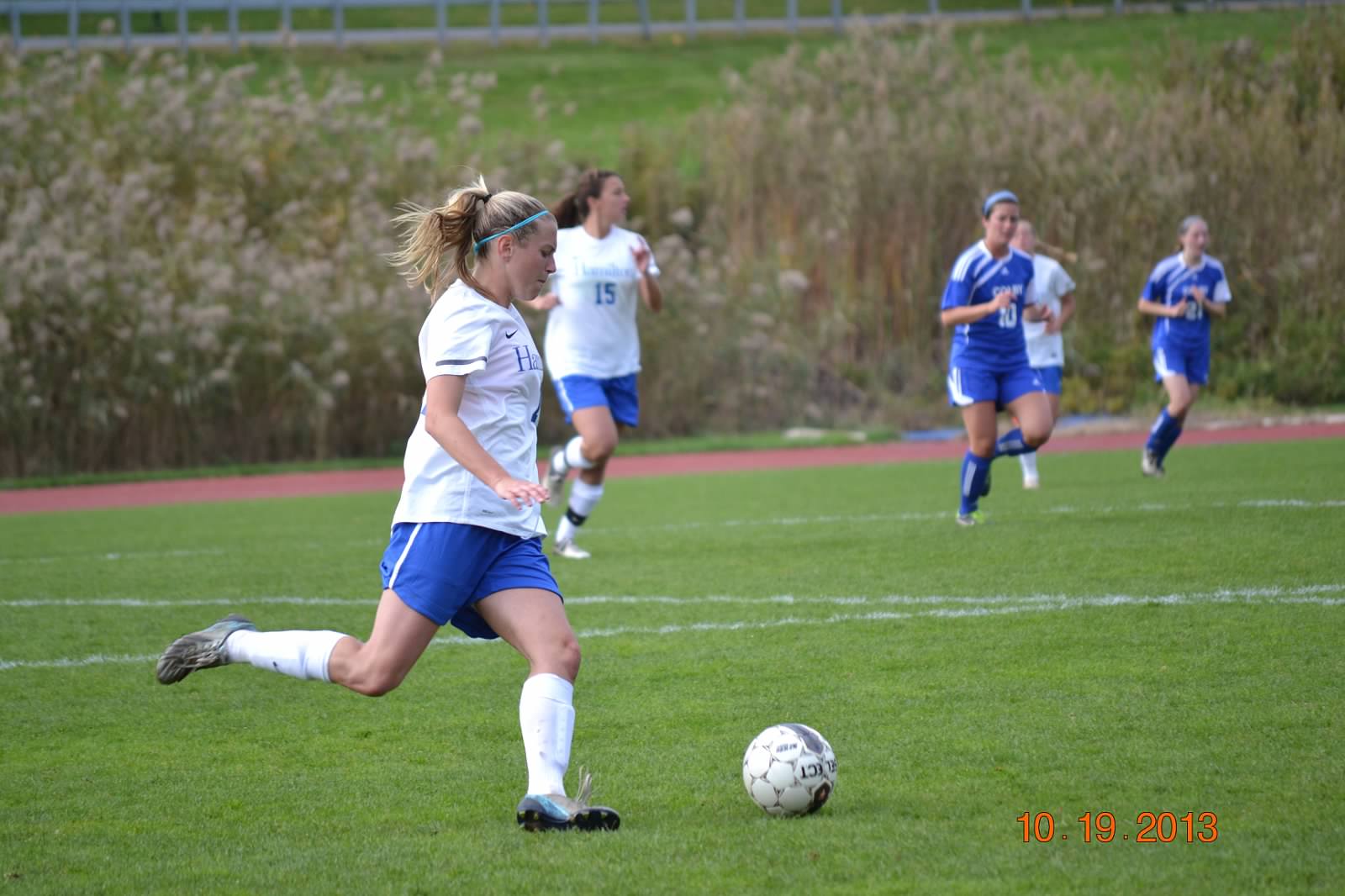 Jack Winter '14 has started all 60 games in her Hamilton College women's soccer career. Jack and her teammates finish the regular season with a NESCAC contest at Williams College on Tuesday, Oct. 29, with a spot in the 2013 NESCAC championship hanging in the balance. She will soon be a three-time member of the NESCAC fall all-academic team, and was a key contributor on a Hamilton squad that advanced to the second round of the NCAA championship in 2010.

Q. Can you please tell us a little bit about where you grew up?
A. I lived in Chatham, New Jersey, until I was 8 years old and then my family moved to Concord, Massachusetts, where I attended school from third through 12th grade. Concord is about 25 miles outside of Boston and is a really beautiful, quaint, typical New England town. Its claim to fame is that the Revolutionary War started there, so most people will probably recognize the name from a sixth grade history class. I couldn't be more grateful that I grew up in Concord; it's such a great and supportive community and our high school has a lot of school spirit and takes sports seriously. I also have awesome friends from home with whom I'm still really close.

Q. How did you get interested in soccer?
A. My interest in soccer comes from my dad, who played soccer throughout his whole life, including in college at Brandeis University. His team won a national championship during his sophomore year, so I grew up hearing stories about those NCAA games and thought it was the coolest thing ever. I've played soccer since I was probably 4 or 5, and my dad coached my teams throughout elementary school, so soccer is something that we have always connected over and shared.

Q. Did you participate in any other sports competitively before college?
A. I played lacrosse all four years of high school and was the captain of the team my senior year. I really love lacrosse, and I remember that during high school I couldn't decide which sport I preferred. One of my biggest regrets is that I didn't try to walk on to the lacrosse team at Hamilton, especially because the girls are sooo awesome (shout out to my roomies). Who knows if I would have made the team, but I shouldn't have written myself off so quickly.

Q. What factored into your decision to choose Hamilton College?
A. My college search was pretty much limited to the NESCAC schools, and although Hamilton was still in the Liberty League for soccer at the time, it was on my list as well. Hamilton's campus was the most beautiful out of all of the schools I visited, and in the end I chose it because I liked (head coach) Colette (Gilligan) better than most of the other coaches I met.

Q. You are a defender on the team. For readers not as familiar with the sport of soccer, what are your responsibilities playing in the back?
A. My biggest responsibility is to do everything that I can to make sure that the other team doesn't score. Our defensive line makes games pretty personal, and we have a lot of fun shutting down over-confident forwards. It's equally fun to get up the field on offense as much as possible.

Q. The team has played 60 games since you arrived at Hamilton and you have started every single one. Looking back on it now, what kind of an appreciation do you have for an accomplishment like that?
A. I really appreciate that accomplishment. I think it's a reflection of the fact that I've been lucky enough to never face any major injuries as a college athlete. I can't tell you how much fun I've had in all of those games, and I'm really grateful that there's been a major role for me to play on this team.

Q. On Saturday when the team hosted Tufts University, it may have been your last game on Love Field. Have you had any time to reflect on that fact?
A. I've tried to reflect on it, but I really can't wrap my head around it. When the season is over I think it will all hit me and I'll obviously be really sad. For now, we have a lot of work ahead of us -- we're working to make the NESCAC playoffs -- so I'm not thinking about very much other than that immediate goal. On Saturday I'm going to focus on leaving Love for the last time having played in a way that I'm proud of.

Q. Do you have a favorite Hamilton women's soccer story that can be shared?
A. The coolest moment I've had as a Hamilton soccer player was making it to the NCAA tournament during my freshman year. I remember walking along the Martin's Way bridge, and opening an email from Colette telling us that we had received an at-large bid to the tournament. I think I might have screamed out loud. When we got to the tournament field we got special VIP passes which made us all feel a lot more important than we really were. We beat Virginia Wesleyan 1-0 in the first round and lost to Johns Hopkins 2-0 in the second round, and they eventually went on to the quarterfinals. NCAA's were by far one of the coolest experiences of my life.

Q. You are a four-year starter and will soon be a three-time member of the NESCAC fall all-academic team. What does it take to excel on the field and in the classroom?
A. I have excelled academically despite time constraints that I face as an athlete because I'm willing to stay up late to complete my work. I work really hard and care a lot about succeeding, and I put in the extra hours that I need to get everything done. Excelling on the field requires a lot of focus and competitive drive, and more than anything requires that you love the game and have a lot of fun playing it.

Q. Do you have a favorite professor or a favorite class from your time here at Hamilton?
A. My favorite professor, Professor Cannavo, taught my favorite class at Hamilton thus far, Intro to Political Theory. Professor Cannavo is a really fair professor and kindhearted guy who made class enjoyable every day. I learned a lot in that class and I especially loved the philosophical aspect of it.

Q. You live just outside the suburbs of Boston. What do you think of Boston's chances in the World Series and do you have a favorite Red Sox beard?
A. I'm a huge Red Sox fan, and OBVIOUSLY think that the Red Sox chances of winning the World Series are very good (knock on wood). The best beard on the team is Napoli's without question. He's been growing that thing out since spring training in March. I also have to give a shout out to my teammate Becca Rees' dad, who has his own Red Sox playoff beard going strong.

Q. What are your plans after graduation?
A. I wish I had a post-grad plan already, but that's something I'm still working on. I'd love to live on the East Coast, preferably in New York City, Boston or Washington, D.C. I need to be somewhere close enough to New England so that I can go to all of Hamilton's soccer games next fall (you think I'm kidding).