Student-athlete profile on Will Robertson '14
---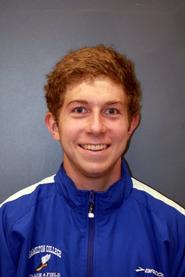 Will Robertson '14 is a two-time varsity letter winner on the men's cross country team. He will help lead the Continentals into the 2013 Hamilton College Cross Country Invitational on Saturday, Oct. 12, and the 2013 New York State Collegiate Track Conference Cross Country Championships, which the Continentals will host on Saturday, Oct. 26. Will, who also competes for the track & field teams, is a two-time member of the NESCAC fall all-academic team and was selected to the NESCAC all-sportsmanship team for men's cross country last year.

Q. Tell us a little bit about where you grew up.
A. I grew up in the capital city of Saint Paul, Minnesota, where I've lived in the same house for 21 years. I attended a public Spanish immersion school for elementary school, which made me fluent in Spanish at a very young age. I went to an inner-city high school in my neighborhood that had a good International Baccalaureate (IB) program and a strong Spanish program so that I could keep up my Spanish studies. I have always been a huge Minnesota sports fan and have a special affinity for the Minnesota Twins, although it has been quite painful for the last couple of years. In my later years of high school, I played guitar several times outside the Twins' stadium with a friend who played saxophone and collected tips in my guitar case. My outdoor education also started at an early age, as I made frequent trips down to a family cabin on the Mississippi River where I learned how to canoe and gained an appreciation for the outdoors.

Q. How did you get interested in competing in cross country/track and field?
A. My parents put me on cross country skis pretty much as soon as I was able to walk. I learned how to cross country ski at a young age and started to ski competitively with the high school team as early as seventh grade. Many of the skiers, including my older sister, were cross country runners in the fall and track athletes in the spring. Once it became obvious that my soccer career was going nowhere (I played through my sophomore year of high school), I decided to join cross country running in order to train for skiing. I thought it was just going to be a temporary thing, but it turned out to be something that I quite enjoyed, and I kept at it through the remainder of high school. I wasn't planning on competing in college, but after not competing my freshman year, I knew that I missed the competitive aspect of a varsity sport. So, I walked on to the cross country team my sophomore year.

Q. Did you participate in any other sports competitively before college?
A. I was actually a very competitive cross country skier in high school. I considered skiing to be my main sport throughout high school. During my college tours I met with cross country skiing coaches, not running coaches. The main reason I even made an eastern college tour was to see some of the top skiing programs. However, a month into my senior skiing season I badly fractured my collarbone, and that left me with no results for my senior season. The time off gave me a lot of time to think and I ended up shifting my mindset. I based my college decision not on skiing programs, but on the school as a whole, which is what led me to Hamilton. I definitely made the right decision. I also played soccer from age 5 through my sophomore year of high school, but my hand-eye and foot-eye coordination were seriously lacking.

Q. What factored into your decision to choose Hamilton College?
A. As I mentioned a little bit in my previous answer, Hamilton wasn't really on my radar at first. I originally just stopped by the campus because my sister had a friend from high school who went to Hamilton. At the time, I just thought of it as a detour on my way to tour colleges with big cross country skiing programs such as Middlebury, Bowdoin, Colby and Bates. However, I absolutely loved my visit. After I broke my collarbone, I began to think about the other aspects of the school aside from just skiing. I looked at Hamilton's music program, their state-of-the art science center, and the overall campus atmosphere and decided that Hamilton was superior to all the other schools in every aspect except for skiing. And after a long time of thinking, I decided that skiing didn't really matter that much to me in the scheme of things, and that I'd be much happier at Hamilton (which has proven to be true).

Q. This Saturday is the annual Hamilton Cross Country Invitational. How does our course stack up with others you have competed on?
A. Our course is one of the most difficult courses in the area. Aside from being a very soft surface (all grass that turns to mud with the slightest bit of rainfall), the course is also very hilly. While it is rare to run a very fast time on our course, our team tends to place quite well because we have a lot of experience with the difficulties that it brings.

Q. What has been your favorite course to run since you have attended Hamilton?
A. My personal favorite course to run on is SUNY Oneonta's home course, which is a very flat course with only two loops. I generally prefer courses where you don't have to run more than two loops of the course, which is probably why I prefer cross country over track. It helps that Oneonta was the first race in which I placed well enough to receive an award at the end of the meet.

Q. As a two-time member of the NESCAC fall all-academic team, what are the keys to excelling academically and athletically at the collegiate level?
A. The key for me is to use all of my free time productively. Aside from just athletics and academics, I spend 13 hours in rehearsal for different music ensembles each week, work eight hours a week and somehow have to find time to eat and sleep. So while free time is sparse, I find that I use my free time much more productively if it is sparse than if it is too opulent. A simpler key to excelling academically and athletically would be coffee.

Q. You are a team captain and were selected to the 2012 NESCAC All-Sportsmanship Team. What makes someone an effective leader?
A. To be an effective leader, one needs to be constantly aware of the team mentality. One needs to know when to step in and energize the team to compete at a higher level, and when to step back and let the team fall into a groove and run itself. Effective leaders are always aware of their own limitations; if a leader knows they aren't good at certain tasks, it's important that they delegate those tasks to others instead of trying to do everything themselves. An overbearing leader is just as bad as a lackadaisical one.

Q. Do you have any favorite Hamilton cross country memories that you can share?
A. This is a story that is funny now that we look back on it, but talking about it now is pretty fun. In my first year on the team during the first week of practice, Coach (Brett Hull) decided that he was going to drive us 10 miles away from school in a jitney and then we would run back to school. However, it was smack in the middle of Hurricane Irene. So coach drove us to the top of the hill to the windiest, most unprotected area around, dropped us off and took off. Within the first minute, my clothes were soaked and plastered to my body, and we were running into a nasty headwind. However, we persevered and made it back to school. The feeling of accomplishment after that run was tremendous, and despite being nasty, it was a very fun and intense run.

Q. Two-part question, have you ever finished a marathon, and is there one out there you haven't run that you would love to someday?
A. Despite being a long-distance runner, I have not finished a marathon. It's kind of hard to run a marathon while in season for cross country or track because the type of training for that distance is very different than the training we do for our 8k races. Once I am done with my collegiate running career, however, I would love to run the Twin Cities Marathon. It would be pretty cool to do my hometown marathon with my dad, who is a marathoner himself.

Q. Do you have a favorite professor or a favorite class from your time here at Hamilton?
A. I would say that one of my favorite professors has been Professor of Music Rob Hopkins. His classes are incredibly engaging and I would recommend them to anyone interested in music.

Q. What are your plans after graduation?
A. I plan on pursuing a career in music after graduation, hopefully composing music in some capacity as a film-scorer, ghostwriter or a singer-songwriter.