Student-athlete profile: Taylor Hogenkamp '13
---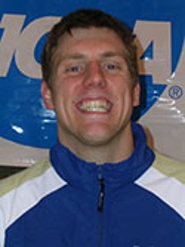 Taylor Hogenkamp '13 leads the men's swimming and diving team into the Hamilton Invitational against Trinity College and Worcester Polytechnic Institute this weekend. The third and final session of the meet starts at 9 a.m. on Sunday, Dec. 2. Taylor is a two-time team captain and made the NESCAC all-conference team as a part of Hamilton's 800-yard freestyle relay his freshman and sophomore seasons. He is the team's top sprint freestyle swimmer, and holds a dual major in mathematics and economics.

Q: Tell us a little bit about where you grew up.

BUFFALO. I have a great deal of pride for the city and its people. I grew up in a small suburb outside the city. East Aurora is a cute little village with a bustling main street and a neat history.

Q: Did you compete in any other sports before you came to Hamilton?

My high school friends always laughed about the amount of sports I participated in throughout high school and eighth grade. Two-plus seasons of soccer (cut short by a broken leg), three seasons of tennis, one season of track and volleyball and even a bit of cross country. I tried my luck at everything, but swimming is the only one that stuck (that is until I found collegiate water polo).

Q: How did you get interested in swimming?

My brother, who is 6 years older than me, began swimming when he was young and continued his swim career at Union College. I followed in his footsteps into the pool and threw on my first speedo at 4 years old. I have been swimming ever since and cannot imagine my life without it.

Q: What attracted you to Hamilton College and the swim program?

Why Hamilton? I loved everything about the school, and saw an opportunity to take advantage of the small community by interacting with professors and administration on a much more personal level.
Why Hamilton Swimming? Coach (T.J.) Davis and Bowie Sievers '11 had a fun-filled recruiting trip arranged for me. Hamilton has a pretty renowned swimming history and I was excited for the chance to become a part of it. When I applied early decision, I saw an opportunity where I could contribute and be a leader on the team from Day 1.

Q: This weekend the Hamilton swimming and diving teams host a two-day invitational. What is your goal, individually and as a team, for these early-season meets?

My ultimate goal is to encourage the team to leave it all in the pool in each of their events this weekend, and subsequently make a statement in the NESCAC. We have a young team, so it is up to Ian Nichols '13, Danny Levine '13 and I to set the tone in these early-season meets. Individually, I plan to post an impressive time or two and lead our freestyle relays to the top of the NESCAC early this season.

Q: As a two-time team captain, what makes someone an effective leader?

I look to challenge myself in every practice and try to find new ways to become faster and stronger. I hope that my attitude about the sport rubs off and motivates younger swimmers. It is important to remind each member that no matter how fast they are, everyone brings something valuable to our team. With a mentally grueling sport like swimming, it is crucial to keep things positive.

Q: You made the NESCAC all-conference team as a member of the 800-yard freestyle relay your freshman and sophomore years. What's it like to compete in the NESCAC championship meet?

A highlight of my entire swim career will definitely be standing up on that podium as a freshman with such an unbelievable group of guys in that 800 free relay. It is an amazing feeling when four teammates come together and swim their hearts out for a common goal and achieve what we did in consecutive years. Our all-conference relays became a great tradition for Hamilton swimming and one that I am confident will be renewed this year. To step up on the block with the cream of the crop of Division III swimming, compete and hold your own in the NESCAC is quite the experience.

Q: You are majoring in mathematics and economics. How do you juggle a dual major and a sport that is in season at least four months out of the academic year?

I have found that a difficult yet fun part of my Hamilton career has been striking a balance between the classroom, swimming, working at the Career Center and enjoying life as a college kid. I am NOT a good juggler, but I take one step at a time and keep a pretty detailed calendar.

Q: What has been your favorite class and/or professor so far at Hamilton?

American Economic History was definitely one of my favorites. I am currently taking a course in Modern Art, and I will tell you, there is nothing more interesting than hearing about the bizarre yet sophisticated visions of Van Gogh, Warhol and every artist in between. It is important that everyone has the ability to talk about art in some way, shape or form.

Q: One fun question...Who would you predict will be the next U.S. male swimmer to try and pick up where Michael Phelps left off? And you can't say Ryan Lochte.

I think Lochte (even with his Western New York roots) has seen his spotlight come and go along with his millions of commercials. I expect there to be a brand new face of American swimming in Rio 2016. Missy Franklin is obviously a stud for the women. Nathan Adrian, who won gold in the 100 freestyle, would be a popular pick on the men's side. You never know, the sport of swimming has its fair share of surprises. Over the summers I used to coach a talented group of younger swimmers. So until further notice, I choose them!

Q: What will Taylor Hogenkamp be doing five years from now?

Next year I will be working in the management development program at M&T Bank. Hopefully they like me enough to keep me around for a while. In the next five years, I just want to be doing something that I love with my awesome future dog. Hopefully, I can coach a little swimming on the side, and give back to the sport that has given me so much.