Student Filmmakers Demonstrate Ability to Beat the Clock
---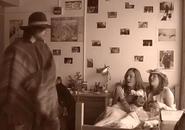 On Friday Dec. 2 at 11:30 p.m., student filmmakers gathered for the commencement of the annual 24-Hour Film Festival. In the past, the event has taken place in the spring, but this year, Film Production Guild President Taylor Coe '13 wanted to see the Festival through before going abroad to Edinburgh for the spring 2012 semester.
"I figured that if I didn't do it at least this semester, then it might not happen this year at all," said Coe.
"I've been hoping that the event can become an every-semester event, rather than just a once-a-year deal," he added. "There are always a bunch of people who would do the event who are a) off-campus during the spring or b) swamped with other obligations when it happens."
Going into the day of storyboarding, filming and editing, the filmmakers were equipped with a bag containing a videotape, written instructions and a DVD-R onto which they were required to burn the final copy of their film. Each film had to be five minutes or shorter in length, although pre-edited tapes contained up to hours of footage.
During Friday night's meeting, each group was assigned a number by random lottery, and the groups selected their film genres in rising numerical order. With more genres available than there were groups, no one walked out disappointed.
"It's hard to pick because they're all so good," said Amelia Mattern '12. Her group, which got second pick, chose to make a silent film. "As long as there's no dialogue in the movie, it can take on any genre," Mattern said.
In Silent But Deadly, the characters discover an 1812 time capsule. The capsule contains, among other items, a bucket list.
"Some of the things on the list are already checked off," said Matt Therkelsen '12. "And we decide we're going to complete it."
The group felt confident going into the competition. When she was a sophomore, Mattern's film took first place.
"It's always great to win, but it doesn't really matter because it's so much fun," she said.
At the end of the day, though, the groups do need to produce a video that meets all the competition's criteria. In addition to the five-minute time limit, each group must include three of five criteria in their film: two designated camera angle shots, a specific object, a location and a line from a famous film. This year's line came from The Notebook: "I wrote you every day for a year."
With all of these guidelines, making a film might not seem too difficult. But tying the elements together into a cohesive narrative is no easy task. Like finishing any composition, concluding a movie can be especially tough.
"Everyone's going to die at the end," said Therkelsen.
"Sort of," added Connor Brown '12.
The ending of another group's film informed its title, Scold Me While I'm Caked—a play on George Kuchar's Hold Me While I'm Naked.
"There's a sort of sad guy, and his mom and her lover are getting on his case," explained Lexi Nisita '12. "At the end, he puts a bunch of cake on his face."
Scold Me While I'm Caked is of the trash genre. Nisita described trash films as similar to exploitation films in that both varieties are meant to "look very cheap but be seen as real movies."
Ian Wayne '12 is a member of Visiting Professor of Film History Scott MacDonald's avant-garde film class, which hosted an event dedicated to trash film earlier this fall. The class has had a big impact on Wayne's interest in film and filmmaking.
"This year, we started making movies with our MacBooks," said Wayne. "I made an advertisement for the trash film event, and my friends and I have made one-shot birthday movies for each other."
The 24-Hour Film Festival was Wayne's first time working with the Final Cut editing interface on a project. "I've done some audio editing and a little bit of visual editing but not a ton," he said.
"Ian's our guru," said Andre Matlock '12.
Every year, several groups drop out of the competition before the 24 hours are up. Wayne believes that making it through the day is all about maintaining a certain mindset.
"You have to think you're going to win," he said.
However, Matlock didn't see things quite the same way. For him, the Festival was more about realizing a vision than winning a title.
"This is just an excuse for us to make this movie we've wanted to make for a while," said Matlock.
"But we're going to win," asserted Nisita.
An all-senior group, the makers of Scold Me While I'm Caked have been writing their theses this semester. Some of them have deadlines as early as next week. While other seniors might have spent Saturday in Burke Library's 24-hour room, the filmmakers decided to take a break from the grind.
"This is the most enjoyable thing I've done all semester," said Matlock.
The group that selected horror as their genre also had a great time putting together their film, even though it kept them up all of Friday night.
"We didn't start filming until about 2 a.m.," said Claire Barton '14. "We worked on our storyboard from midnight until about 1:30 a.m., at which point we took a recess to get props and supplies. At 5:30 a.m., we called it a wrap."
Unlike most of the competition's entries, Knightmare had to be filmed during the wee hours of the day to set the scene for the eerie events that take place in the narrative.
"It's about a serial killer who wears a horse head," Barton explained. "He targets women, strangles them and gauges out their eyes. At every killing, he leaves a chess piece—a knight—and a cryptic calling card that reads, 'knight takes _______ piece.'"
The serial killer has four victims, who correspond to four chess pieces: pawn, bishop, rook and queen.
"We needed to have something for blood, and food coloring seemed too campy," said Barton. "Instead, we used pomegranate seeds. The color was amazing."
Lauren Lanzotti '14 was another member of We Ain't Actors, But We Make Movies—the group that produced Knightmare. At Hamilton, she works closely with the theater department, so she is no stranger to creative projects such as this one.
"I've done stage makeup before, and I did the makeup for our movie," said Lanzotti. "It was awesome."
To shoot their film Beastwood Goes South, Katrina Raebler '12 and Grace Belkot '12 woke up around the time that Knightmare's cast and crew were finishing their own.
"We started filming at dawn," said Raebler.
"We're doing a western, so we wanted to capture a showdown at sunrise," explained Belkot. "We tried to do all the standard scenes."
The group traveled into downtown Clinton to film a saloon scene at the Village Tavern. Affixing the ends of mops to their bicycle seats, members of their group transformed bikes into horses to recreate chase scenes that typify the western genre. But the group did not try to just shoot a classic western. Rather, they infused their film with Hamilton-related humor.
"The first scene shows a Light Side cowboy in bed with a Dark Side cowboy's girl," explained Raebler. She encourages future 24-Hour filmmakers to "embrace Hamilton."
"But in a creative way," added Belkot.
After the 24 hours expired, the films were shown in the Annex. Like any other movie premiere, the viewing gave the filmmakers the opportunity to see their works completed on the "big screen," and audience members were able to respond. To vote, attendees placed tickets they received at the beginning of the screening in manila envelopes labeled with the titles of the films. Each person could vote only once. One of the films violated the five-minute time limit, and it was disqualified from the competition.
Sunday afternoon, Coe sent out an email announcing the competition's winners. Beastwood Goes South took first place, with Knightmare following in second and Silent But Deadly claiming the third-place prize.
Entries from past competitions are available for viewing on YouTube, and this year's films will likely hit the Web this week.