Students Awarded Prizes, Scholarships at Class & Charter Day
---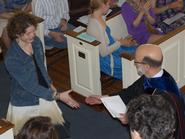 Academic achievement prizes, prize scholarships and other recognition of student accomplishments were awarded at Hamilton's 60th annual
Class & Charter Day
convocation on Friday, May 7, in the Chapel. Among the top prizes,
Caroline Davis '11
won the Milton F. Fillius Jr. /Joseph Drown Prize Scholarship, and
Corinne Bancroft '10
was awarded the James Soper Merrill Prize.
Davis is majoring in an interdisciplinary concentration on social justice, peace, and development that she created. In 2009 she and Laura Gault '11 were awarded a Davis Peace Project Fellowship program grant of $10,000 that they used on a research project, "Empowering the Hadzabe as Agents of Peace: Health for Cultural Preservation." Davis and Gault spent the summer of 2009 in Tanzania as part of a Hamilton College Field Study through which they learned about indigenous rights and lived with the Hadzabe, Maasai and Barabaig communities. Last fall Davis studied abroad in Kenya. She works with Habitat for Humanity, is a Project Shine volunteer, is involved with Students for International Public Health Awareness and volunteers with Hope House. She studied abroad in Costa Rica during the fall 2007 semester.
The Milton F. Fillius, Jr. /Joseph Drown Prize Scholarship, established by the Joseph Drown Foundation, is awarded to a student completing the junior year who has been very successful academically, who has demonstrated outstanding leadership qualities while at Hamilton and who is likely to make a significant contribution to society in the future.
Bancroft, a comparative literature major, is one of the founders of Hamilton's Community Farm Garden. She was instrumental in organizing Hamilton participation in the No More Deaths Spring break project to the borderlands desert region near Arivaca, Az., over the last three years. Bancroft is also active with the Social Justice Initiative. In March she presented a paper titled "A Story We can tell to Ourself: The Rhetoric of Border Narratives" at the International Conference on Narrative in Cleveland. Bancroft was the 2009 recipient of the Milton F. Fillius/Joseph Drown prize Scholarship. She was elected to that national honor society Phi Beta Kappa in March.
The James Soper Merrill Prize is awarded to the member of the graduating class "who, in character and influence, has typified the highest ideals of the College." The winner is selected by the faculty and speaks at Commencement.
A total of 155 students won other
prizes and scholarships
for public speaking, writing and achievement in all academic disciplines. This year's speaker was Hamilton Charter Trustee Arthur J. Massolo '64, P '93.
An all-campus picnic followed the awards and HamTrek, the seventh annual campus triathlon took place with individuals and teams competing in swimming, biking and running.