"It's a Google and two clicks to get to the [Bon Appétit] menu," Chris Lee '16 noted, "and that's just annoying." Lee, a computer science major, isn't being lazy; he understands that in the age of smartphones, convenience often determines usefulness. With this in mind, Hamilton App, available on both the App Store and the Play Store, aims to "centralize information to one useful app for the benefit of students, alumni, faculty and staff."
Hamilton App has been in the making for over a year, a project originally started by Don Stayner '15, the previous chair of the Student Library and Information Technology (LITS) Committee. Stayner was inspired by a similar app he saw at Dartmouth College and began developing the original version with the LITS Department.

Replacing Stayner as chair of that committee, Lee inherited the "bare bones" project and approached Stuart Hirshfield, the Stephen Harper Kirner Professor of Computer Science, with interest in developing a senior project.
"I realized it would be easier to jumpstart the project with four people working on it instead of one," Lee explained. "We all kind of had our own focuses, even though we were constantly collaborating," he continued. "Katherine Droppa '16 nailed down the look of the app; Noah Lowenthal '16 was instrumental in figuring out how to pull in Bon Appétit's dining information; Sam Kotlov '16 spent a lot of time developing the map feature; and I did a lot of managerial things, like keeping tabs on our overall progress and working with community members outside of the Computer Science Department."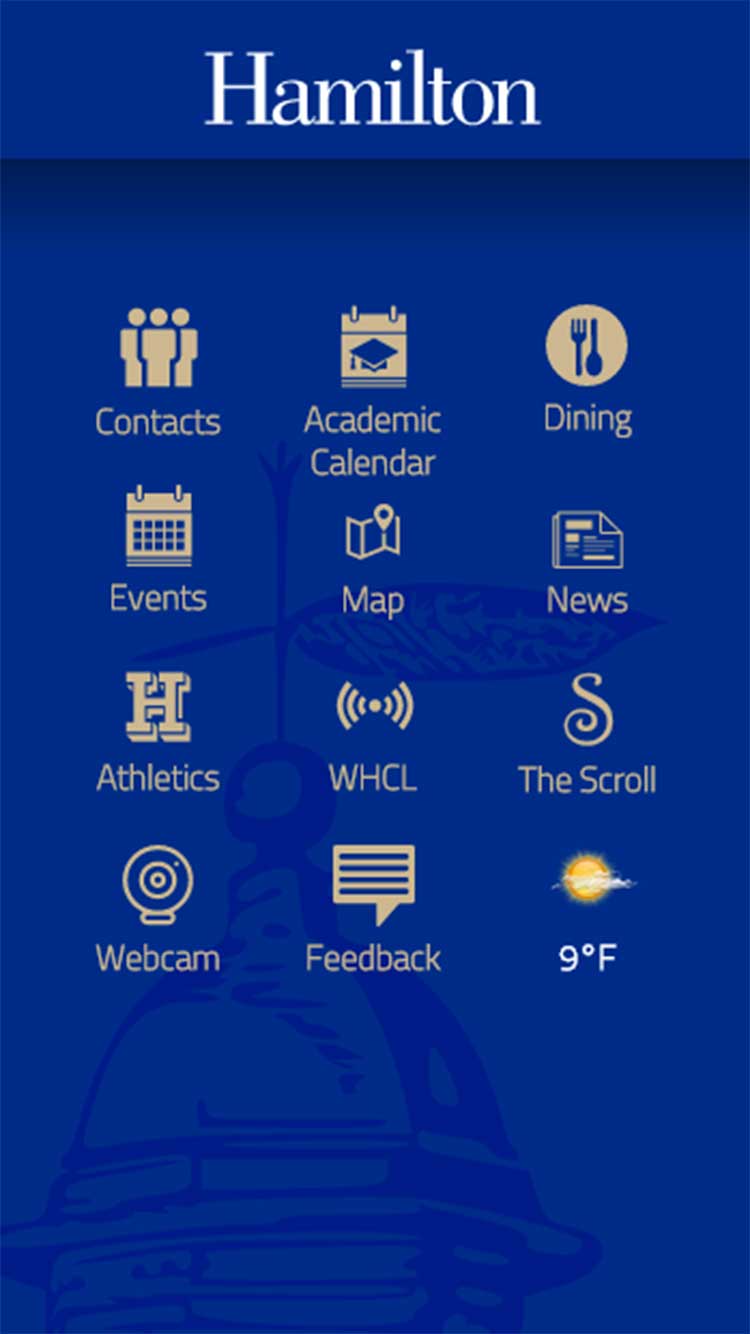 Beyond their weekly meetings with each other and Hirshfield, the group met with members of the communications office, "who provided us with the icons and content for much of the app."

LITS was also a key player, "providing a lot of technical support with the framework and fixing issues [the team] couldn't figure out." Another crucial component managed by LITS is "the back end resources in a server, where the software pulls the information from," Lee explained.
While the students had no background in designing mobile apps, the framework, Phonegap Build, "has a low learning curve, which, when combined with strong programmers and faculty, made the process relatively smooth," Lee explained. "It's also very relevant to be designing for the mobile market and we were able to put something out that we're proud of, not to mention it could change how people navigate at Hamilton."
Hamilton App currently offers 12 features, including athletics, events, and academic calendars, an interactive campus map, the local weather, the WHCL stream, and the dining hall hours and menus, to name a few.

"We're hoping to draw more attention to some of the information and resources on campus by making them easier to find and navigate," said Lee. For example, the WHCL stream has previously been unavailable via mobile phone.
Lee explained that "since this is a student driven app, we wanted to make sure that we were on the same page with the student body, and so we asked Student Assembly to test it and give us feedback. It helped us work out some bugs, and also confirmed that the favorite feature was, by far, access to the dining menus." Beyond the current features, there is also opportunity for growth, such as adding things of student interest, like the campus publications or live score updates from sporting events.
Hamilton App is currently tailored to students, but the team would like to generalize its focus and add filtering options for students, alumni and community members based on their specific interests.

"It's been really cool to see it all come together in less than a year and a half, and to see how much support the college and all the departments have given the project," Lee said. "My favorite aspect though," he continued, "is that this came from a student initiative and was developed for free and with passion by students."
While Lee's group is no longer working on the app, he hopes that the project will lead to a symbiotic relationship between LITS and the Computer Science Department.

"Mikey Antoniv '17, wants to continue with this as a senior project next semester, which would be great because there is still a lot of work to do and the technology is constantly developing. It's also a valuable addition to resumes and is increasingly relevant," said Lee.
Hamilton App has gone live now that students have returned from spring break.