Students Experience Rural China in ACC Field Studies Program
---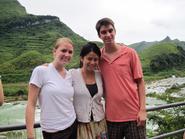 Hamilton students Ashley Chang '10, Chelsea Stone '10 and John Garrison '10, along with 13 other students selected nationally, were awarded grants to participate in Associated Colleges in China (ACC) Field Studies program this summer. The program's purpose was to help students who have previously studied abroad in a language-intensive program in China retain their high level of Chinese ability. It also aimed to help American students develop a better understanding of rural China and the China that is situated "outside of study-abroad programs." For seniors Chang, Stone and Garrison, this seemed like a deal too good to be true.

"Who doesn't want to get a real look at China?" asked Stone, an Asian Studies and Chinese double major. "As Luce Foundation fellows, we were able to come into contact with so many people that we would never have been able to meet had we stayed in one place all the time."

The grants were provided by the U.S. Dept. of Education Fulbright-Hays GPA program and the Henry Luce Foundation. The program consisted of three parts: learning about the Chinese education system, teaching summer camps and presenting on one aspect of American education in a week-long conference.

The first three weeks were dedicated to learning about the situation of China's current education system, including specific factors like migrant workers' children and the standardized testing that can literally "make or break" a student's life. Unlike last year, where the students were unable to study in Chengdu because of the Szechuan earthquake, this year's participants were able to study in the "Hot Pot Capital" of China. Along with sampling some of the province's delicacies, they were actually able to visit a village and spend some time with migrant children whose homes had been affected by the earthquake.

"I felt bad for these kids, knowing that I probably would never see them again," said Garrison, an Anthropology and Chinese double major. "After we had lunch, we played a few games of basketball and tossed my Frisbee around. They liked my Frisbee so much, I just decided to give it to them." The other opportunity to interact with Chinese children came when the students taught three-day summer camps in the Szechuan and Guangxi provinces.

The students did not necessarily need to have a strong background in education to participate in the program, however. Chang, a double concentrator in Chinese and Comparative Literature, even used job experience in a little known Hamilton effort to emphasize environmental awareness in her presentation. "I talked about working in Hamilton's Cram & Scram program last year to emphasize how a little amount of concentrated effort can really make a difference in changing our immediate environment." Interlaced between the weeks of presentations, teaching and studying, the students were also able to fit in a little time to work with pandas this summer.

We were even able to meet some of the pandas that were sent to Beijing last year for the Olympics," said Chang. "But the best part for me was learning that when baby pandas are born, they are the size of your fist!"

The students will discuss their experiences on Monday, Oct. 5, in KJ 201. The presentation will be done in accordance with the outreach segment of the Field Studies program, which states that the students must give presentations at their respective schools. Chang is a graduate of Brooklyn Tech High School, Stone graduated from Niskayuna High School and Garrison is a graduate of Columbus Academy.