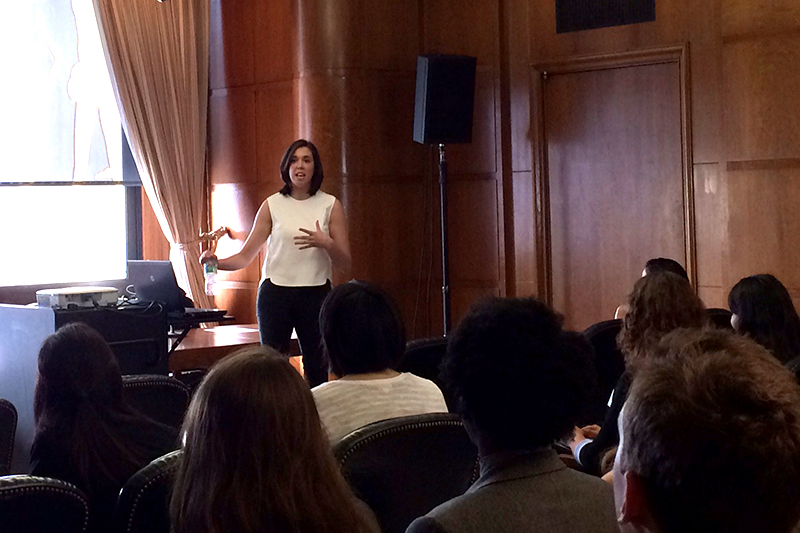 Some people know, from the first time they see their name in print, that they want to write. Others learn over time that they excel in editing. And still others don't realize until their senior spring that they possess the interpersonal and persuasive skills that make successful publicists. On March 29, Hamilton students and alumni convened at the Brooklyn Public Library to discuss the publishing industry and the myriad roles one might play within it. The event, called CareerExplo: Publishing, was sponsored by the Maurice Horowitch Career Center.
Kate Childs '08, a publicity manager at Random House, began with a keynote speech on networking, or "connecting" as she prefers to call it. "I hate the word 'networking,'" she said; for many, it's evocative of being thrown into a room full of people and having to advocate for yourself. Connecting, on the other hand, could happen informally."

Childs attended Eastern College Career Day in New York City during the spring of her senior year, a highly formal interview program, where she met with a recruiter from Random House who "scared the bejeezus out of [her]." She boarded her train back to Utica sure that she would not be selected for the job. But two weeks later, the company called her offering a spot in Random House's highly selective associates program. Though the program no longer exists, it offered six recent graduates the opportunity to rotate throughout departments in the company, allowing them to spend around seven weeks in each department so they might "learn about book publishing process from the inside out." Eight months into her stay as an associate, Childs interviewed to work as the executive assistant to the president and publisher of Random House, Gina Centrello. After two years, she moved to publicity and has been doing that ever since.
Childs didn't always see herself planning corporate and special events for a major publishing house, or leading digital campaigns for authors. "I dreamed of working at Newsweek," she said. At Hamilton, Childs exercised her passion for media as an editor at The Spectator and by founding The Continental. She majored in government and art, which provided her with a base of research, writing and visual skills.
"Hamilton grads are very well suited to book publishing careers," Childs said. "They're intellectually curious, strong writers and interested in the world around them."
She urged the students in attendance to consider the industry. "There's so much beyond just editors. Every job in the world exists within a publishing house," she said. "Of the six people chosen for the associates program my year, I was the only one who wasn't an English major and who hadn't interned at a publishing house."
Rick Horgan P'17, vice president and executive editor for the Crown division of Random House/Penguin, assumed the podium next. He gave an oral history of book publishing from 1980, when he broke into the industry, to the present.

"Any publishing person my age has lived through an almost complete transformation as [the industry] moved from digital to analog." Whereas, publishers and publicists once aspired to get their authors' work into the Book of the Month Club and schedule appearances on the Phil Donahue Show, "the Oprah of the 1980s," now the goal for commercial fiction is to pick books that can be adapted into films.
Similarly, the way people buy and read books has changed substantially. Local, independent booksellers were at one point the primary source for books, but chains and now Amazon have overtaken and all but eliminated them.
"The sale of books has remained pretty steady over the past 10 years, but the titles have increased," Horgan said. For this reason, publishing houses have become increasingly fixated on search, or the terms used to find books online. If a company can "describe a book in such a way that it aligns perfectly with what someone would type into Google," then the book will probably sell quite well.
Similarly, sales have a lot to do with the manuscript that an acquirer purchases. "There are a lot of things that enter into [the acquisition process]," Horgan explained. "Is it fresh? Does the first page grab you? Is the author's biography interesting? It helps to be 18-years- old or 88 years old." And finally, he said that the people who work in the industry always have to ask themselves, "Can you see the movie?" He described it as an exercise in "pattern recognition"—reading bestsellers and being able to spot the same themes and gestures in new manuscripts.
Horgan reiterated that people with different kinds of expertise could find careers in publishing. Editors, he said, are exceptional writers and have "an appetite for grueling work." People who are good at writing but "really excel in delivering an oral pitch" could do well in PR, he explained. And those who know foreign languages have the chops for working in subsidiary rights. Before entering the job market, he urged attendees to "honestly assess who you are."
Associate Director of the Career Center Heather Wixson then led five Hamilton alumni in a panel discussion. Panelists covered a wide set of interests and fields, and included Michael Signorelli '05, senior editor at Holt; Olivia Waxman '11, TIME NewsFeed reporter; Danielle Burby '12, associate at Hannigan, Salky, Getzler Literary Agency; Lauren Magaziner '12, assistant editor at Scholastic Magazines and author of the forthcoming children's novel, The Only Thing Worse Than Witches; and Selena Coppock '02, managing editor at the Princeton Review, comedian and author of The New Rules for Blondes.
The panelists emphasized the importance of making connections and demonstrating passion. Waxman got her job through "an informational interview that was an actual interview." Magaziner's book deal came out of an internship she had during her time at Hamilton. A play Burby wrote and produced on the Hill will now reach Long Island and Manhattan, thanks to connections she made at work.
Coppock explained that banal interests could be a source of inspiration for writers, and that they might even lead to great achievements. One of her first post-graduate ventures was writing recaps of The Bachelor on a personal blog. "Maybe it's silly to have a blog about The Bachelor," she said, "but it got me my book deal."
Similarly, Coppock finds time to balance both her work life and her enthusiasm for comedy. "I'd love to have a 30-minute stand-up special on Comedy Central, but for now, I do it because I can't not do it. It's what I love." At Hamilton, she was a member of Yodapez and a writer for The Spectator, which "helped [her] find [her] voice."
Students and alumni who attended the event came from across the board. During introductions, it became clear that some had no experience in publishing but were interested in learning about the industry. Others had completed internships and contributed to on-campus publications, but wanted to find out about next steps. And still others were professionals who had received specialized degrees, published books, gone on to be reporters and editors, and worked in both print and digital.
"I'm interested in writing, and I'd love to be published someday," Jenna Langbaum '15 said. "I'd like to write a book of poems."
Sean Henry-Smith '15, a photographer, said that he has always been curious about "the relationship between images and text," which he hopes to explore through a career in publishing.
"As a senior, it was informative and reassuring," Will Newman '14 said, as he hopes to find a job editing or reviewing manuscripts. "The program helped me understand the variety of opportunities in publishing."
Jordyn Taylor '12, a reporter at The New York Observer, spoke to the importance of learning one's craft. She attended NYU's School of Journalism after Hamilton, which offered her "a crash course in journalism and an opportunity to build her professional network.
Though Hamilton does not have its own journalism concentration or minor, Taylor said that her liberal arts education contributes to her everyday work. "I still use of all of the skills I learned at Hamilton—researching, writing, communicating clearly."
The Career Center event was followed by a poetry reading by Jo Pitkin K'78, founding editor of Red Weather.