Students, Faculty Present at Pioneer America Society Conference
---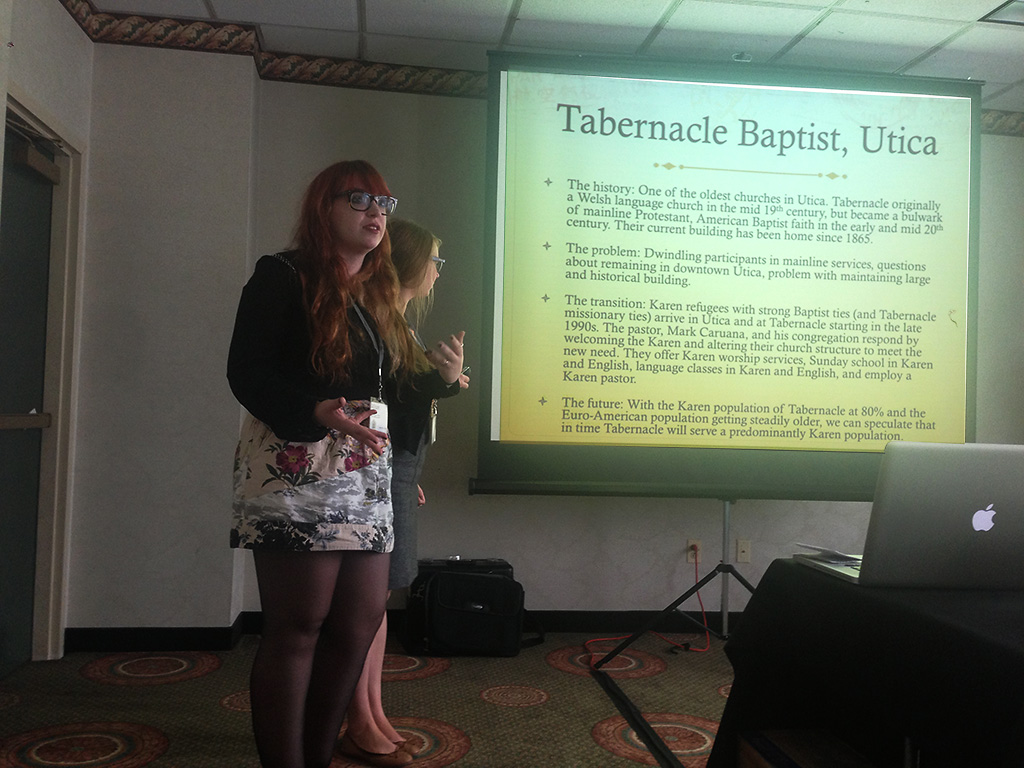 Hannah Grace O'Connell '14 and Alison Ritacco '14 co-presented "Sharing Sacred Space: Possibilities and Pragmatics" at the 45th annual Pioneer America Society: Association for the Preservation of Artifacts and Landscapes conference on Oct. 11 at the Hotel Utica. O'Connell and Ritacco's presentation looked at the practice of sharing space, when two religious communities share a physical building. When the sacred and the social come together, the outcome can be regenerative, they argued, as they examined three spaces.
Tabernacle Baptist Church, a declining mainline Protestant church downtown, opened its doors to Baptist Karen refugees from Burma, and the Karen population has revitalized the church, making it a multicultural and vibrant religious community.
The Jewish congregations Beth-El and Emanu-El have shared the Reform Emanu-El's building on Genesee Street for the past seven years, since a dwindling population forced the Conservative Beth-El to sell their old synagogue; the two now maintain distinct religious communities under one roof, but come together for holidays and celebrations.
The Bosnian Islamic Mosque of Court Street has created a distinctly Muslim prayer space out of the old Central Methodist Church, a move that was welcomed by the church's former congregation and the city itself. They have grown into a strong, tight-knit community that is furthering their involvement in the greater Utica area. The practice of sharing space has led each of these congregations, refugee or native, to find a new home in the city of Utica.
O'Connell and Ritacco were part of the conference session along with Assistant Professor of Photography Rob Knight, and Visiting Associate Professor of Religious Studies Brent Plate.
Knight's presentation was titled "Space and Usage Evolution in Religious Structures in the Utica Area," and offered an artistic response (in the form of still images and video) to changing demographics in Utica. Knight finds a resiliency across religious communities and a surprising flexibility with regard to the nature of each group's notion of "sacred" space. This ability to adapt in the face of significant adversity ties together these diverse groups, and seems to stand as a hallmark essential for their survival.
Plate's presentation was titled "Mapping Utica's Religious Life," and walked through the geographic and architectural changes to sacred spaces from the beginnings of Utica until the present day. Historical imagery was merged with geographical charts to supply a background of religious change.

The presentations stemmed from their summer Levitt Center Summer Research Project, "Religious Spaces in Transition."