Students Gain Work Experience Through Summer Internships
---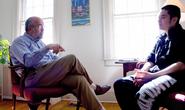 Throughout the summer, internships funded by alumni and friends of the college have been featured on Hamilton's news site. Described below are a few paid internships that also provided Hamilton students with valuable career experiences. There undoubtedly were many more, and we invite students to send the media relations office descriptions of their experiences so that we can expand this list. Send submissions of approximately 150 words to pr@hamilton.edu. They should describe the opportunity and explain how the experience might be of future benefit.

Galia Slayen '13 spent the summer as intern for the Deputy Administrator for Farm Programs in the Farm Service Agency (FSA) of the United States Department of Agriculture (USDA). She prepared a program briefing book for the undersecretary, which policymakers use to refer back to the programs they have already implemented as well as sat in on policy meetings in preparation for the new Farm Bill that will be passed in 2012. Slayen was most impressed by the policymakers' proximity to the farm: "Most people in the office either grew up on a farm or own one. You get cool points for how connected you are to farming," she said.

From New York City, Olivia Waxman '11 also immersed herself in the political sphere as an intern for Talking Points Memo, a political blog that TIME Magazine named the best blog in the world in 2009. As a research intern, Waxman monitored information sites (from the wires and cable news to social media like Twitter) for new stories and conducts research for the editors and reporter-bloggers. She also helped produce slide shows, chose which reader/contributor posts were featured on the TPM Café, the site's op-ed section, helped organize TPM Café's book club program and reported and wrote for the site. Waxman is a government major and history minor and hopes to pursue a career that combines her interests in media and government.

Also in New York, Jason Mariasis '12 worked for Columbia University to integrate technology in education in a profitable way. He was an independent contractor as a business and technology strategist and spent most of his time building and marketing an education-technology consulting group called the Collaborative Solutions Group. It is the university's attempt to put their innovations into the mainstream business world. His projects ranged from creating various web sites to planning upcoming programs in the consulting firm, which he believes will help him in a future career that combines business and technology.

Kerry Coughlin '11 also spent her summer focusing on education, but in the slightly different setting of rural India. Through an organization called Channel Youth, Coughlin had the opportunity to teach English to two different groups of third graders in the city of Udaipur in the state of Rajasthan, located in northwest India. The experience opened Coughlin's eyes to education and opportunities for students in other countries: "I was fortunate to meet a group of 18 incredibly bright and enthusiastic children; if they had access to former schooling with qualified teachers from day one, I can only imagine what they would be capable of," she said.

Nick Richards '12 interned as an immunology research assistant in the Departments of Genetics and Molecular Medicine at Harvard Medical School/Boston Children's Hospital/Immune Disease Institute in Boston. He worked in the laboratory of Dr. Frederick W. Alt, a Howard Hughes medical investigator and the director/president of the Immune Disease Institute. The focus of the lab is to elucidate mechanisms that maintain genomic stability in mammalian cells.

Specifically, Richards worked in conjunction with a graduate student to design and perform experiments investigating class switch recombination in heavy chain immunoglobulin cells and somatic hypermutation in B lymphocytes through stem cell tissue culture and molecular cloning, and mouse work. Information gleaned from one of the experiments will be published in a paper within the next year. This experience will be of future benefit in a possible career in biomedical research after attending medical school. Richards will be returning to this internship next summer.