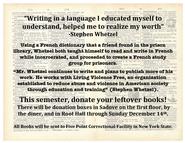 Three students in Professor of English and Creative Writing Doran Larson's "Booked: Prison Writing" course this fall held a campus book drive to benefit prisoners at a New York State correctional facility.
Allie Goodman '15, Emma Bowman '15 and Lily Marks '15 collected 55 books and shipped them to Five Points Correctional Facility, a maximum security men's prison located in Romulus, N.Y.
Goodman explained, "We had an assignment to do any sort of activist, outreach, or community oriented project. The three of us decided to work together on a poster campaign to raise awareness, and have the poster campaign culminate with a book drive.
She said the group "was inspired to do a book drive specifically due to the nature of our course. We read writings only by prisoners or people who were in prison, and many of them were self- taught in prison -- only possible through the access to literature that they had. A book drive was therefore an easy way to help encourage reading and writing," Goodman noted, "which we learned, really has the capacity to help prisoners."