Students in Washington Program Explore NGOs
---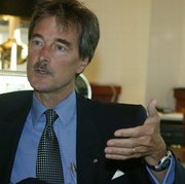 On April 4, students in the Program in Washington met with Michael Klosson '71, Save the Children's vice president for policy and humanitarian response. Save the Children is the leading independent organization creating lasting change in the lives of children in need in the United States and around the world. Recognized for its commitment to accountability, innovation and collaboration, Save the Children works with other organizations, governments, non-profits and a variety of local partners.
Prior to joining Save the Children in 2007, Klosson served as a career Foreign Service officer with numerous overseas posts in Asia and Europe, including U.S. Ambassador to Cyprus and U.S. Consul General in Hong Kong and Macao. His Washington assignments included deputy assistant secretary of state for legislative affairs for Secretary of State Albright and special assistant to both Secretaries of State Haig and Schultz.
After explaining the mission and organization of Save the Children, Klosson described the increasing role of non-governmental organizations in domestic and world affairs and analyzed the complexities of operating at the intersection of the "three D's," development, diplomacy, and defense. The lively discussion ranged from a case study putting students in the position of ambassador to Haiti after the 2010 earthquake to questions about careers in public and international affairs.