Students Learn the Art of Letter Press Printing
---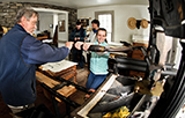 The students of Professor of English Margaret Thickstun's "Experience of Reading" class took a step back in time on Feb. 23 with a visit to the Farmers' Museum in Cooperstown. An hour away from Hamilton College, Cooperstown is best known as the home of the Baseball Hall of Fame, but the destination this day was its quaint historic village.

The students walked the dirt roads, imprinted with horseshoe markings, and entered a wooden building for presswork. The place was scattered with primitive trinkets, including candles, a wooden stove and examples of previous prints. Old pamphlets, advertisements, galley proofs and cuts surrounded the students. They were quickly reminded of an earlier culture.

After they explored the area, Professor Margaret Thickstun reminded them of their assignment for this field trip: the use of an old-fashioned press to produce a page of writing. As a group the class decided to print Robert Frost's "Stopping by Woods on a Snowy Evening."

Fortunately, Farmers' Museum head printer Ted Shuart was on hand to introduce participants to press printing. He possessed a great deal of knowledge on its history. Shuart could not hide his dedication to his work—his ink-stained hands with a Band-Aid wrapped around his thumb and his descriptive stories helped illustrate his passion.

He first familiarized the novices with the keyboard and its organization. To avoid mistakes, the keyboard was arranged to slow a printer down. The most common letters were placed away from the center. This organization later caused some confusion among the class, but with the help of a guide-map, they succeeded in finding the correct letters.

Next came the handling of the iron composing sticks. To protect against carpal tunnel Shuart demonstrated the proper holding technique. He also adjusted all the composing sticks to the proper size using a pica-meter.

The rest was left to the students. They carefully planned the layout of the poem. A couple of them searched for complementary cuts to add between each stanza. Others chose the fonts. They decided on Garamond for the body and Garamond italic for the first letter of each stanza.

With their meticulous preparation and focus, each student successfully composed two lines of the poem. Some students expressed much interest in printing, enough for Professor Thickstun to comment on switching career paths.

The next step required Shuart's expert instruction. He assisted the class in arranging the page into a frame. This process was labor intensive, working out the spacing and proper fitting. However, the inking and actual use of the press followed. Shuart allowed the class to operate the press. Each student experienced the sensation of pushing a ton onto a piece of paper and was impressed to see the result of their efforts.