Students Make a Difference at Local Volunteer Sites
---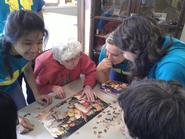 More than 150 Hamilton students took part in this year's annual Hamilton Association for Volunteering Outreach and Charity (HAVOC) Make a Difference Day. Dressed in bright green HAVOC t-shirts, students signed up for a wide range of volunteer opportunities to engage in for the day, from homes for the elderly to animal sanctuaries. Some arrived as individuals, others in groups of two or three, and many others preregistered in groups of eight or more, representing a variety of student organizations around campus. All students came with one united purpose in mind: to reach out to the greater community around Hamilton.
Students were dispatched to volunteer sites around the Rome, Utica, Clinton, Oneida, and Bouckville areas. Sites included the Rome Humane Society animal shelter, Chanatry's Hometown Market in Utica, Rome Clean and Green, and Chenango Canal. Despite the large diversity in the destinations, students expressed a general feeling of fulfillment and engagement, regardless of where they volunteered.
Prior to departure for individual volunteer sites, HAVOC Director and Community Opportunity and Outreach Project (COOP) Senior Fellow Danielle Lashley '13 addressed all volunteers with a few words of encouragement. She emphasized that "The sites you'll be visiting love having Hamilton students," and volunteer site employees "love having [students] come back, year after year." Amy James, Director of COOP, then spoke to the sizable crowd. She stressed that, even though some students may encounter somewhat menial task assignments, it is important to remember that "whatever you're doing out there means a lot" to the organizations that students visit.
At the Spring Farms Cares animal sanctuary and adoption center, five students worked with shelter employees to fold freshly-washed linens, clean cat room floors, and show dozens of cats care and attention. Spring Farms Cares is a no-kill sanctuary that houses and nurtures approximately 250 animals daily, including dogs, cats, horses, donkeys, and one goose.
Founded in the late 1980s as a nonprofit organization, the shelter aims to rescue as many pets as possible while educating the public about spaying and neutering pets. As Kim Robertson, the animal care manager at Spring Farms Cares explained, the organization ultimately aims for enough "animals for every home, but not animals without homes." She went on to say that to keep Spring Farms running, the shelter relies on its volunteers, some of whom come from Hamilton weekly, though employees welcome students on any day of the week.
Andrea Blood '13, who has participated in three previous Make a Difference Days, found her time at Spring Farms cares to be a positive experience since interacting with the animals "helped the cats, especially those who had been abused, to become reacclimatized to a friendly human environment and prepare them for eventual adoption." Her fellow volunteers echoed this sentiment, and one student requested the shelter's contact information so that she may return on her own for further volunteering.
Students at Dunham Public Library had an equally rewarding and enjoyable experience, working to help sort and organize books as well as a variety of other projects, including setting up crafts for a children's workshop for Grandparents' Day. Brian Sobotko '16 believes that Make a Difference Day represents the opportunity to "get to leave the Hamilton Community and interact with the general community around us." Jane Barnard '13 added that the group worked well together, making seemingly tedious tasks such as sorting books fun.
The Dunham Public Library group also featured six students from BSLU, who preregistered together to ensure that they could work as a team at one site. Sara Wortman '15, the Philanthropy Chair of BSLU, believes that participating in Make a Difference Day is "one of the steps toward building a [Hamilton student] presence off-campus."
In light of all the effort and tireless planning that goes into such a large-scale event, Lashley views this year's Make a Difference Day as a success. One group of students even approached her on the day of the event in the hopes of scheduling regular volunteering trips to the site they visited. Lashley explained, "That is one of those amazing moments when a group of students finds their volunteer niche—where they really feel like they can make a difference (pun intended) and are passionate about sustaining the contribution in the long-term."