Students Participate in Live National Poll during Presidential Debate
---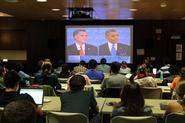 Tonight Hamilton students will participate with students from six universities across the country in a live, pilot polling project during the presidential debate. Via a new smart phone application, more than a hundred students will be able to "register their in-the-moment reactions to what candidates are saying during a debate, using button taps (e.g. Agree and Disagree), and answering pre- and post-debate survey questions (e.g. partisanship, issue priorities, demographics)," according to the developer's website. The students will watch the debates in the Sadove Student Center at 9 p.m.
Poll results will be available to Hamilton on Thursday along with comparison data from other participating institutions. Those include University of California, Davis; University of Maryland, College Park; University of Arkansas, Little Rock; University of Texas, San Antonio; and University of Texas, El Paso. More than 12,000 students have registered to respond to this poll nationwide. In addition to their responses during the debate, students will also be asked pre- and post-survey questions intended to collect demographic information and to help measure changes in attitudes toward the candidates during the debates.
The polling project, which will continue during the next two presidential debates and the vice presidential debate, is being directed by Philip Klinkner, the James S. Sherman Professor of Government, with assistance from the College Democrat and the College Republican student organizations. React Labs, the entity in which the polling application was developed, is led by University of Maryland Professor Philip Resnik, who conceived and designed the polling process. University of California (Davis) Assistant Professor of Political Science Amber Boydstun is an advisor to React Labs and is leading the React Labs: Educate polling collaboration.
According to the React Labs website, "React Labs serves two primary goals. The first is supporting research and analysis: creating a new way to learn about people's reactions to events that is fine grained, immediate, and truly large scale, a combination not achieved by traditional polling or focus groups. And unlike large scale analysis of social media postings, though it's an interesting topic in its own right, React Labs "reaction buttons", demographics, and pop-up survey questions give researchers a greater degree of control over the variables they'd like to study.
"The project's second goal is to foster a greater sense of engagement between people and the events they're watching, particularly engagement in the political process. By creating a community of active participants and making reacting, rather than just watching, easy and fun, React Labs can help give people a stronger voice in political discourse."