Life, Love and Computer Fonts Launch First Rhymelab of the Year
---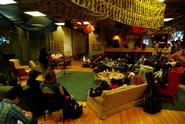 Buoyant rhythms permeate the air. Colorful verses and inventive stanzas create an atmosphere of open and free expression. Aspiring free-style artists provide impressive and original rhymes, and student poets fill the room with both laughter and empathy with their dissertations. It's Tuesday night, and the first Rhymelab of the year is taking place in Opus One. Students flood the lounge to read their poems, sing original songs and support friends performing. Others stop by just for a brief respite from the grind of pre-break schoolwork.

Originally created to provide a platform for individual artistic expression while simultaneously giving a sense of community to those involved, Rhymelab has become a venue for students to express themselves through the various mediums of hip-hop culture and spoken word.

During the course of the night, individuals may be entertained by anything from poetry to free-style battles to original songs. As Randall Mason '10 admitted, occasionally students step up to the mike "just to use it to vent." On this particular night Mason entertained those in attendance with two original pieces, the second falling somewhere between the categories of poetry and an improvised song. Not completely sure how to categorize his work, Randall dubs it a haiku and admits his lack of knowledge in "comp lit." He had the audience roaring with laughter.

The beauty of this venue lies precisely in its openness to the Hamilton community and the freedom of expression it permits. The performers range from first timers to seasoned veterans such as Kadahj Bennet '12. On Tuesday evening Bennet gave the crowd a sneak peak at songs from his new album, DORK (Dream Occasionally, Reality Kills). Be sure to check it out; his spectacular new song "Fly Away" certainly lifted the mood of the listeners.

While the audience certainly appreciates talent, the laughter and applause flooding Opus One leave little doubt as to the exuberance of the gathering. More than a simple venue for artistic expression, Rhymelab provides a sense of communal support. Students feel free to communicate whatever emotions and thoughts they wish without fear. One act will have the students rolling on the floor with laughter, the next sighing with empathy for a performer lamenting a lost love.

The acts at the first Rhymelab consisted largely of poetry readings. Themes ran rampant from Tom William's '11 pieces on computer font and wireless network security to Sonja Garcia's '11 poem about a second chance, and the hustle of life. Other poems ranged from love to social commentaries, and still others whose topics may be best left within the expressive space of Rhymelab. Regular performers shared new poems, while first-timers and their works were received with open arms. Some students prepared work in advance to share, others scribbled down their thoughts just hours before the event. The informality and casual atmosphere create a relaxing environment, providing a reprieve from the norm for performers and the audience alike.

Whether you're looking for quality entertainment provided by fellow students or to share your artistic expression with the campus community, or even just searching for a quick break from your history paper, check out Rhymelab. It provides a fun and relaxing atmosphere with a guarantee of laughter and a good time.