Students Researching Vancomycin Structure
---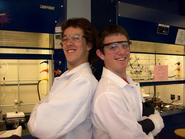 Vancomycin is a glycopeptide antibiotic known as "Mississippi Mud" among chemists. Researchers 50 years ago attributed the clever nickname to Vancomycin's dark brown, cloudy, and generally infectious appearance. But even if Vancomycin looked revolting or noxious to the ordinary citizen, the scientists who were working with it mid-century noticed that it demonstrated strong anti-microbial properties. Originally extracted as a natural product, Vancomycin was widely used when other antibiotics were no longer effective.
However, over the last 20 years, Vancomycin-resistant strains of bacteria have spread and caused recurring outbreaks of staph infections – especially extra-resistant strands like MRSA (Methicillin Resistant Staphylococcus Aureus). Kevin Graepel '11, Rem Myers '11 and Graham Hone '10 are attempting to alter Vancomycin's structure this summer in order to reduce this microbial resistance. They are working with Assistant Professor of Chemistry Nicole Snyder.
Although the students will not touch the aglycan group found in Vancomycin, they will look more closely at the glycan group, which is located at the top of the molecule and is composed of two carbohydrate groups. The researchers want to devise a procedure to go about altering the glycan group. Changing the structure of the group could affect binding to bacterial cell walls and inhibit their biosynthesis.
To do this, they are introducing what is known as an "unnatural" group. It has been dubbed "unnatural" because its carbohydrates are seven-membered rings, rather than five- or six-membered rings. Researchers have contemplated using a seven-membered ring, otherwise called a Septanose Carbohydrate ring, only within the past decade or two. The Hamilton students hope that the replacement will make a difference in how affective Vancomycin is in defending the body against harmful bacteria.
Ideally, the new version of Vancomycin will retain most of the same functional groups as the initial model. A functional group is a group of atoms responsible for the chemical reactions that are typical of a particular molecule. Graepel said that these functional groups need to be different enough, however, that bacteria won't easily recognize them. It should also take longer for the target bacteria to develop microbial resistance to it.
"Other groups in other places have developed derivatives of this molecule, some of which have a lot of biological activity," Graepel said. "We're hoping that ours will be more biologically active."
Gretel said that he decided chemistry was his calling not too long ago.
"I decided to be a chemistry major when I realized that Orgo II [Organic Chemistry II] was my favorite class ever and that I was a huge nerd," he said with a straight face.
The three students say they look forward to going to Six Flags New England with fellow summer chemistry students later in the summer. An Adirondack hiking trip is also in the works.
Just as the students will have to endure the physical exertion of trekking through the Adirondacks, they will feel the aches and exhaustion that result from a hard day's work in the lab. But they will not cease to wage their battle.
As Graepel matter-of-factly put it, "The fight against bacteria is one we're going to continue to fight."
-- by Allison Eck '12
Related Information
Summer Research at Hamilton