Summer Internships Provide Essential Career-Related Experience
---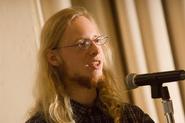 It's no surprise that 2009 college graduates are having a tough time finding jobs in the current economy. Surveys by the National Association of Colleges and Employers (NACE) found that fewer than 20 percent of 2009 graduates who had applied for a job actually had one by the time of graduation, down from 26 percent in 2008, and more than 50 percent in 2007.
But a more revealing statistic is this: Of the graduates who did land jobs, NACE found that 73 percent had completed an internship at some point in their college careers. NACE is a professional organization of career counselors at more than 2,000 U.S. colleges and universities.
Kino Ruth, director of Hamilton's Maurice Horowitch Career Center, reiterates the necessity of internships. "Now more than ever, students need to prove themselves to employers," he said. "They need to show that they have the skill set, drive, and preferably related experience, in order to set themselves apart as being the ideal candidate for a job."
Ruth continued, "The absolutely best way to do this is to have career-related experience (CRE) on your resume, and to be able to talk about what you learned in that previous internship or volunteer opportunity. Candidates who can successfully describe their skill set and give examples of how they used their skills to benefit their previous employer or organization – whether paid, unpaid, volunteer or personal – will have the best chance of success in the job search," he added.
Many Hamilton students -- and not only rising seniors -- took that advice to heart this summer as they went to work in internships that offered experience and the chance to network in a field of interest. Some examples of what Hamilton students did this summer:
Allison Eck '12
worked as a writer for three months in Hamilton's media relations office. Visitors to the College's Web site news page this summer undoubtedly read some of the 96 stories she wrote about Hamilton's summer research students and funded interns. She also penned some pieces for the Alumni Review. Eck has been contributing columns to
The Buffalo News
since her days as a student at Clarence Central High School.
Jeffrey Rabinowitz '12
spent the summer working in market expansion strategies for a company called Red Espresso in Cape Town, South Africa. Red Espresso has pioneered a new beverage category –it's a Rooibos tea espresso made from rooibos tea refined to an espresso grind similar to coffee.
Victoria Nygren '10
interned with National Public Radio's Audience Insight and Research department. She participated in the creation of summer 2009's Intern Edition, a Web-based radio and multimedia project. Produced entirely by interns IE serves as a storytelling lab for public radio's next generation of contributors. She produced two pieces: Jaywalking Profiles and Real World DC.
Several Hamilton students had internships in Washington, D.C.
Emily Anderer `10
worked at the Center for Student Opportunity (CSO). CSO is a non-profit working to increase college access for minority, rural, first-generation, and other traditionally underserved prospective college students. Anderer was the editorial assistant for the college guidebook, which highlights programs and practices at colleges for attracting, retaining and supporting these populations. Her main tasks were writing and editing profiles for the 250+ colleges featured in the book -- including Hamilton College, included in this edition for the first time.
She also wrote an article about using numbers and statistics to determine the quality of a college or university, which will be published in the guidebook. Anderer noted, "Because I plan to pursue a career in education, and also because I'm writing my history thesis about American higher education, my internship tied in very well with my future goals."
Kye Lippold '10
worked as a clerk in the Bureau of Economics at the Federal Trade Commission, providing research support to senior economists. His duties included composing literature reviews, helping design consumer studies, and conducting research of online virtual worlds."It was a great opportunity to find out about the operations of a federal agency, to network with talented economists, and to learn about regulatory policy in a variety of markets," said Lippold.
Catie Ferrara '11
was an intern at the U.S. Environmental Protection Agency (EPA) in the Office of Policy, Economics, and Innovation where she worked directly for Patricia Bonner, who developed and wrote the EPA's Public Involvement Policy. Public Involvement addresses necessary parts of the policymaking process like public comment periods and town hall meetings to reach consensus on new rules.
During her 11 week internship, Ferrara assisted with Internet outreach, including development of the Public Involvement Resources and Training database and a proposal to elevate Public Involvement on the EPA Web site to help visitors find these resources. She also researched the Agency's transparency efforts and the Open Government Directive, leading to articlesshe published in the EPA's Collaboration
Network News
.
Jason Mariasis '12
worked as an independent consultant with Financial Research Corporation in Boston. The company is a research and consulting firm that does business with 90 percent of the top 50 fund companies in addition to about 200 other businesses.
Michael Moreno '11
completed a 10-week internship in wealth management at UBS Financial Services in New York.
Arielle Cutler '11
interned at the National Yiddish Book Center. She took two classes, one in Immersion Yiddish Language and the other in Yiddish History, Culture, and Literature. The interns also had the opportunity to pursue either a research project or some sort of experiential learning project, working directly with the Center's staff and resources. Cutler chose to research Jewish humor, and, more specifically, its historical development as well as its defining qualities. "This topic was great fun," she said. "I got to pour over jokes, writings by Woody Allen, and YouTube clips of comedians doing their thing, all in search of answers to legitimate scholarly questions!"
Nick Stagliano '11
spent his summer in New York City as an intern at the Asian Cultural Council, headed by Hamilton Life Trustee Elizabeth J. McCormack. The ACC supports cultural exchange between the United States and Asia by making grants to individual artists, scholars and specialists whose work and study focuses on the arts and cultures of Asia.
"The joy of working for the ACC is the chance to meet the grantees: the incredible artists who receive the grants and who are, in many cases, either the most promising artists in their home countries or already well-known," Stagliano said. He wrote proposals for support from corporations and foundations, solicited donations from board members and past benefactors, researched potential prospective donors and planned events to acknowledge ACC supporters.
Stagliano will continue to work for the ACC during the fall semester: keeping up with e-mail, calling into meetings, and contributing to projects as a telecommuter for the organization.
Ezra Rosenberg '10
interned in Annapolis, Md., for Maryland State Delegate Roger Manno (D- Montgomery Country District). His work included doing constituent outreach, casework and researching/writing a bill to expand plastic recycling in Maryland.