Students Summit Mt. Washington on Spring Break Trip
---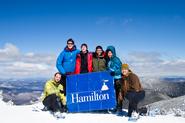 During spring break five Hamilton students summited Mt. Washington, New England's highest peak, as the culmination of a week-long introduction to mountaineering course. Hamilton's Outing Club (HOC) sponsored the six-day course taught by HOC officer David Morgan '15. The Mt. Washington ascent came after 4 days snowshoeing deep in the White Mountains of New Hampshire.
Mt. Washington proudly boasts that it is the "Home of the world's worst weather" with temperatures at the summit regularly dipping below -20 degrees and winds commonly in excess of 100 miles per hour. In fact the weather observatory on the summit proudly states that they are home to the fastest natural wind speed ever recorded at 231 miles per hour. The 6,288 foot climb is considered one of the best in the east and is often used as a stepping stone to bigger mountains in the west and across the world. The Hamilton team summited after 5 hours of climbing, enduring well below-freezing temperatures and fierce winds.
Prior to the ascent the students learned the essentials of winter camping and safe winter travel in mountainous terrain. In addition to mastering classic skills such as the use of ice axes for self-arrest and crampons for climbing they were learned how identify and avoid dangerous avalanche terrain and navigate in a blizzard. In addition to climbing Mt. Washington the group also summited many other peaks over 4000 ft. including Carter Dome, Mt. Hight and the entire Wildcat Range.
After coming down the mountain and eating a hearty dinner, many in the group commented that all they wanted to do was climb more mountains. Outing Club officers say plans are already in the works for more mountaineering expeditions next winter.