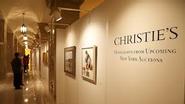 Ten Hamilton students interested in the art market visited Christie's fine arts auction house in New York City on March 28. A massive, vibrant Sol LeWitt mural greeted attendees at Christie's headquarters in Rockefeller Plaza and foreshadowed an exciting day. Mary Evans, director of Hamilton's Career Center, remarked, "This is a great opportunity for students to learn about the art auction business in an internationally pre-eminent setting."
The morning began in the boardroom with a talk from Veronique Chagnon-Burke, the academic director of Christie's Education New York. Chagnon-Burke's talk surveyed Christie's nearly 250-year history and its changing role in the art market. The company has dramatically expanded its operations from its traditional London origins. Today, it is one of the most respected auction houses in the art hubs of London, Paris and New York, as well as at the forefront of expanding into Chinese and Middle Eastern markets. Growth has also brought increased opportunities for Christie's employees.
Christie's has come to resemble a modern corporation, adding positions for business analysts and strategists while retaining the traditional strength of its art experts. The company has also widened its focus from the auction floor itself toward increasing online and private sales. Overall, this expansion has allowed Christie's to further its mission "to bring art to the world," said Chagnon-Burke.
Hamilton alumna Julia Rueckert '11 also spoke to the students. A studio art major at Hamilton, she said knew she "wanted to be surrounded by art" in her career. After a brief stint in marketing, she worked as an assistant for an art appraiser and found her way to Christie's nearly a year ago as a telephone bid coordinator.
Rueckert likened the telephone banks of an auction house to the trading floor of a stock exchange because of the fast pace of work. As many sales take place over the phone, especially in the post-war contemporary art market, bid coordinators must balance addressing large numbers of bids with cultivating relationships with repeat clients. Despite the challenges of her job, Rueckert said, "I enjoy coming to work because I enjoy what I'm looking at every day." For current students, she stressed keeping an open mind about career paths and the importance of seeking internships in fields of interest as early as possible.
Andrew Holter, head of the departments of American Folk Art and Furniture and Decorative Arts, also shared his story and some of his observations about the art auction business. He spoke of the thrill of chasing valuable antiques, as well as the excitement accompanying an object that seemingly appears seemingly out of nowhere. The auction business, he explained, depends on the "four D's" for the supply of valuables: debt, divorce, death and de-accession. The random and sudden nature of any one of these events leads to some exciting and surprising acquisitions for an auction house.
Holter then led to Christie's basement storage space for a hands-on lesson in appraisals. Displaying three wooden drawer chests side by side, he asked students to give their best guess as to which were most valuable. After some guessing, he explained the different factors that appraisers consider when assigning value, including the value of the wood, stylistic rarity and provenance of the object. After checking out other objects in the basement, students were treated to a general tour of the auction house by Christie's Education Academic and Admissions Coordinator Hilary Smith.
Overall, Hamilton's day at Christie's gave students a sense of the many job opportunities that exist at a large auction house, both on the scholarly and business sides. The students enjoyed the tour and hearing the speakers share their stories. "Everyone [at Christies] seems to love what they study and sell," said Louis Serota '16. For students worried that they do not have the art history background necessary to work for an auction house, Christie's offers advanced education seminars in multiple fields of art history that "provide transferrable skills for those who want to enter the art world," in the words of Chagnon-Burke.