Study Finds Hamilton Has $275 Million Regional Impact
---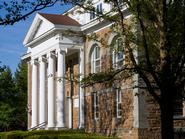 With total payroll exceeding $23.1 billion for 373,800 direct, indirect and induced jobs, New York's independent colleges and universities are major source of jobs in all regions of New York State, according to a new economic analysis by the Center for Governmental Research (CGR) released today by the Commission on Independent Colleges and Universities (CICU). The same study determined that Hamilton College generated $275 million in economic activity in the Mohawk Valley.
The announcement came during an Independent Higher Education Forum on Oct. 16, planned by Hamilton College, Hartwick College, PrattMWP, St. Elizabeth College of Nursing, host campus Utica College, and the Commission on Independent Colleges and Universities (CICU). The program featured a Community Partners Fair and a panel discussion, "Think Globally, Hire Locally: A Dialogue about Working with Campuses to Attract and Retain Talent"on which Mary Evans, assistant vice president of the career center, was a participant.
The panel addressed how businesses and colleges can work together to attract and retain talent in the area. Other panel members included representatives from the Mohawk Valley Regional Economic Development Council, the Bank of New York Mellon, Bassett Health Care, Mohawk Valley EDGE, St. Elizabeth's Hospital and the Community Foundation of Herkimer and Oneida Counties. Other sessions included a networking breakfast and presentations by elected officials, CICU president Laura L. Anglin, Utica College President Todd Hutton and representatives from St. Elizabeth's College of Nursing and Hartwick College.
Additional Center for Governmental Research Analysis Data:
In total, the 100-plus independent colleges and universities in New York State contributed $63.2 billion to the state's economy in 2011. This is an increase of $8.9 billion (16.4%) since 2009, and an uptick of $15.7 billion (33.1%) from 2007.
In 2011, direct institutional spending exceeded $50 billion and academic medical center spending totaled more than $8.9 billion. New York's independent, not-for-profit colleges and universities generated student and visitor spending of $4.3 billion.
In Upstate New York—the area from the Mid-Hudson Valley region to the North Country to Western New York—independent (private, not-for-profit) colleges and universities directly employ 78,700 with a payroll that exceeds $5.1 billion.
"In a labor market struggling to recover from the Great Recession, both young people and established workers know that they must invest more in their personal 'capital'—the education and training they bring to the marketplace," said CGR's chief researcher officer Kent Gardner, who led the study. "New York's independent colleges and universities have expanded to fill that need. This is good for the economy directly—as it provides employment for skilled professionals—and indirectly, as this enhances the capacity of New York's workforce to confront the challenges of the 21st century.
"Higher education remains one of New York State's most significant economic sectors," said CICU president Laura L. Anglin. "The Independent Sector of higher education is a vibrant contributor to the economy and community. Private, not-for-profit higher education is the source a large number of jobs. Our colleges and universities are significant customers for local vendors, especially when it comes to construction. They are anchor tenants, talent magnets, workforce and innovation catalysts and community partners."
Nearly 1.3 million students enroll annually at colleges and universities in New York State; the largest percentage attend private, not-for-profit institutions. The independent sector's total enrollment is 488,180 for fall 2010. In 2010-11, private, not-for-profit campuses granted 136,559 undergraduate and graduate degrees.
The independent sector of higher education produced 52 percent of the bachelor's degrees earned in New York State in 2010-11; 71 percent of the master's degrees; and 79 percent of the doctorate and professional degrees, according to data from the National Center for Education Statistics, Integrated Postsecondary Education Data System (IPEDS).