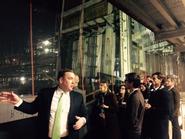 The Hamilton Alumni in Real Estate group (HARE) has had successful installments in the metro New York City area, including their inaugural event in 2014 and the NESCAC Real Estate Association inaugural event. In addition to these events, members have come back to the Hill to mentor students on career opportunities in the real estate field.
On October 20, Stephen Winter, the vice president of commercial leasing at The Related Companies, spoke at the Hamilton Alumni in Real Estate Talk and Tour of Hudson Yards. Related is the developer of the Hudson Yards project, which is currently the largest private real estate development in the history of the US, and the largest development in New York City since the construction of Rockefeller Center.
During the talk and tour, Winter described and gave attendees insight on the future buildings and tenants of this development. Hudson Yards will be a combination of commercial and residential buildings: including restaurants, office spaces, hotels, residential buildings, etc. The project will also generate over 23,000 jobs in construction alone.
The Hudson Yards development hopes to bring an additional location of culture and sophistication to New York City. To conclude the tour, Winter led the attendees to the beginning of the High Line, where they could look down on the Hudson Yards and see America's biggest real estate project ever.
For additional information on the Hamilton Alumni in Real Estate group, please contact Director of Affinity Programs Laurie Russell.