Susan Hartman K'74 Collaborates on Documentary Project
---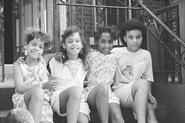 Susan Hartman K'74, a journalist, has been working with a team of three award winning photographers and a videographer on a documentary project, based on her New York Times cover story, Jump Rope Girls, 20 Years On. This project follows three remarkable young Brooklyn women. Hartman has known these young women—and written about them—since they were 11. The project includes, Destiny's Sweet Sixteen, a video.

She also directs the Brooklyn Lyceum Writers Series in Park Slope. This past season she featured Galway Kinnell, who won the Pulitzer Prize in poetry. March 7, she is partnering with Knopf Publishing in presenting Edward Hirsch, winner of the National Book Critics Circle Award and a MacArthur Fellowship. He'll be reading from his new book of poetry The Living Fire.

Hartman is chair of the Kirkland Mentoring Committee. At Kirkland, she twice won the George A. Watrous Poetry Prize. After receiving her BA from Kirkland she earned an M.F.A. in writing from Columbia University.