White Discusses Emerson Exhibits in Radio Show
---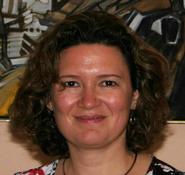 Local radio stations WIBX and Lite 98.7 aired an interview with Susanna White, associate director and curator of the Emerson Gallery, on Nov. 21. The 14-minute segment was part of Central New York Travel, Oneida County Tourism's weekly radio show.
In the interview White discussed "Stations, Revelations, and the Holy Artwork," three concurrent exhibitions on display at the Emerson Gallery through Jan. 2. The exhibitions examine definitions of religious art, what makes images religious and what happens when objects leave an artist's studio or their spiritual context and become "property" of the community. Included are works from the Emerson Gallery collection and the Burke Library special collections.
White talked about the Emerson Gallery Permanent Collection, describing it as a "diverse teaching collection" made up of a wide range of artwork, from antiquities to contemporary pieces. She noted that due to lack of space only a small part of the Permanent Collection can be displayed. White discussed plans for a new museum, scheduled to open in 2012, that will allow a lot more of the art to be viewed. Designed with transparency, openness and flexibility in mind, the new facility will have storage areas that will also serve as display spaces revealing a behind-the-scenes look at the museum. With classrooms situated in close proximity to the display/storage areas, White said exhibitions will be incorporated into the curriculum, furthering the primary mission of developing creative thinking, problem solving skills and confidence in looking at art.
When asked about the gallery's relationship with Clinton and the entire Central New York area, White explained that gallery exhibitions and events are always free and open to the public and bring in artists and artwork that area residents might not otherwise be able to experience.
The entire interview is available on the Oneida County Tourism website.