Taneja Leads Days-Massolo Center
---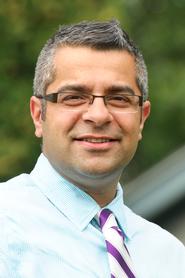 The importance of balancing academic and social experiences was impressed upon Hamilton's new director of the Days-Massolo Center Amit Taneja at an early age. "Kites were my first big love," said Taneja. "My parents were strict about homework. When I came home from school I had to finish my homework first before I could go up on our roof to fly my kites." As the center's director, Taneja is focused on making the center a vibrant heart of both academic and social community experiences and creating a confluence of student groups working across differences.
One of the first steps he hopes to take is to meet with campus leaders – heads of student organizations, members of Residential Life, orientation leaders, among others – to discuss multicultural competence skills. He also plans to both physically and metaphorically open the doors of the Days Massolo Center to all members of the Hamilton community as a home away from home, beginning with an open house on Tuesday, Aug. 30.
Taneja has experience in creating home environments. "When I was 18, my family moved to Canada from India. I was sent ahead and, at that young age, I was responsible for setting up the family household for the nine members who were following a few months later. Most teenagers grow up a bit more gradually but my transformation happened almost overnight. I faced a huge learning curve with a new country and new customs. It was a huge transition but a good one."
Taneja comes most recently from Syracuse University where he was special assistant to the senior vice provost for equity and inclusion and former associate director of the Lesbian, Gay, Bisexual & Transgender (LGBT) Resource Center. He holds a master's degree in college student personnel from Bowling Green State University and is currently completing doctoral work in higher education at Syracuse. His dissertation focuses on the intersection of race, class, gender and sexual orientation for LGBT students of color on college campuses. Taneja earned his bachelor's degree in psychology at the University of British Columbia (UBC). He also worked professionally as a disability services advisor at UBC before heading to the US for graduate education.
"We are taught often not to look at differences out of fear," Taneja observed. "My vision for this center is that it be a place in which we create and maintain honest dialogues."
Group dialogue - bringing people together to talk across gender, racial and sexual orientation differences – is an area in which Taneja has significant experience. He hopes to introduce similar programming at Hamilton. He has facilitated similar discussions at Syracuse and has published on the status of LGBT services in Canada, the experience of students of color in colleges and universities, and the importance of intergroup dialogue. His background includes working with a wide range of groups and organizations, from social workers and police officers to university administrators, faculty and youth groups, and he has served as a consultant and speaker on diversity issues at such institutions as Oberlin College, Cornell University, Princeton University and Ithaca College.
"My goal is to have the students, faculty, staff and alumni come together and engage with the space and the center's programs and to make this an inclusive environment of curiosity, learning and respect for all," said Taneja. He hopes that alumni will feel welcome and be partners with the center as mentors and speakers. "Together we can create a center that will help prepare students to become global leaders."