Tara Huggins '14 Interns at Denver Caterer
---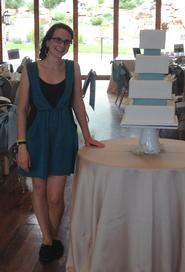 Tara Huggins '14 may be a communication concentrator, but unlike many of that department's students, her career goals have little to do with public relations, news media or communication research. Rather, Huggins wishes to pursue a career in full-service event planning, and she is completing a summer internship at Occasions Catering in Denver, Colo., to supplement her Hamilton communication background with real world experience.
Huggins applied for and was accepted at a number of internships in the Northeast, but instead chose to intern at Occasions in order to broaden her event planning background. She is special events coordinator for the Campus Activities Board and vice president and social traditions committee chair for the Student Assembly. As a Clinton resident working in an unpaid internship, Huggins would have been unable to live in Denver for the summer without the help of a stipend from the Gerome Gottlieb '64 Fund, which is administered through Hamilton's Maurice Horowitch Career Center.
Huggins interns for Occasions as an event design intern, but thanks to the proactive and inclusive approach Occasions has taken to her internship, she has had the opportunity to work in the warehouse, kitchen, finance department and event design department. In addition to working eight hours a day for most of the week, Huggins also attends many of Occasions' catered functions in the evenings and on the weekend.
Occasions wasted no time involving Huggins in all parts of their operation – she attended a catered event on her first day and sat in on a sales meeting during her second. In her first two weeks alone, Huggins worked on and attended one Kiddush, three bar mitzvahs, four weddings and a private party, all held at some of Denver's most sought-after venues. One of Huggins' favorite aspects of interning with Occasions is the variation in her everyday tasks. She remarked that "the only consistent thing about catering is the unpredictability. No two days are the same, which is why I love my internship so much."
Huggins is also impressed by how much Occasions gives back to the community. Occasions often donates a catered meal, which is valued at well over $1000, to be auctioned off to the highest bidder when it caters a charity or fundraising event. The caterer also uses local food vendors whenever possible and often caters "green" events to minimize environmental impact.
Huggins says that her time interning at Occasions has reinforced her desire to work in the full service event planning field and has given her invaluable experience in the world of catering. She encourages her classmates who are pursuing nontraditional career paths or majors to "reach out and get an internship in something they are truly passionate about, which may be different from what they think they should do as a 'Hamilton student.'"
Huggins is a graduate of Clinton Senior High School (N.Y.)