Science Center Event Recognizes Taylor Gift
---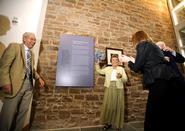 The dedication of the Edward and Virginia Taylor Science Center was a joyful celebration of the Taylors' generosity coupled with recognition of Hamilton's commitment to science education and liberal arts values. The naming ceremony, a highlight of the college's bicentennial kickoff weekend, was held in the center's atrium on Friday, Sept. 23.

President Joan Hinde Stewart, speaking to the crowd of alumni, parents, friends, students, faculty and staff, said, "In honoring Ted and Ginnie, we honor the liberal arts values that have defined our college for two centuries: imagination, persistence and the desire to produce graduates who lead lives of meaning and purpose.

"We are also honoring the relationships between students and faculty on this hill. Ted describes Hamilton Professor Dick Sutherland as 'the best teacher I've ever encountered' in 60 years of teaching, and credits Sutherland's colleague Asa McKinney with '[firing] my determination to become an organic chemist.' One cannot help but think that these generous descriptions of Hamilton professors are similar to the ways in which Ted's Princeton students have described him for 50 years."

Board of Trustees Chair A.G. Lafley '69 began the ceremony by welcoming the crowd and noting that he remembered clearly the day the College awarded Ted Taylor an honorary degree. It was the day that Lafley received his bachelor's degree. He then introduced Stone Professor of Psychology Douglas A. Weldon, who served as leader of the College committee that oversaw the project.
Weldon thanked all those involved - the faculty, staff, trustees and architects – and remarked that "this building reflects Hamilton's commitment to science and to the education of knowledgeable and effective citizens." He noted that in the past six years, 18 colleges, among them Trinity, Vassar and St. Olaf, have visited the center and that the building is "providing a model for other schools."
"With all of the sciences under one roof, this building reflects the connections that continue to grow between our disciplines. Perhaps most notable, however, is the way in which this building has facilitated the personal interactions that make learning at a small college special."
Preceding the unveiling of the plaque dedicated to Ted and Ginnie Taylor, Ted Taylor spoke about his experiences and why they felt the College should be the recipient of their $16 million gift. He explained that a flip of a coin (he suspects it was a nickel) led to his choice of chemistry over biology in his first year at Hamilton and under what he calls "practically private tutoring" from his professor Dick Sutherland, he became "absolutely fascinated with chemistry from the first lecture." Taylor exclaimed, "Some of the most exciting intellectual days of my life were spent at Hamilton."
"I was on the scene when folic acid was discovered and I have been fascinated with it ever since. It was out of that fascination that the new cancer drug came to be. The patent was assigned to Princeton and as a result royalties came to Princeton and to us, and it is because of that discovery that we are able to make this gift. We couldn't think of a better thing to do with it [the royalties]. …It is all because of Hamilton that this drug was possible. It is with gratitude and wonder to Hamilton that we find ourselves in a position to do this. It made us feel so good to be able to do this."
President Stewart concluded the ceremony with these words, "Such generosity and goodness are truly moving."