Teaching Awards Presented to Five Faculty Members
---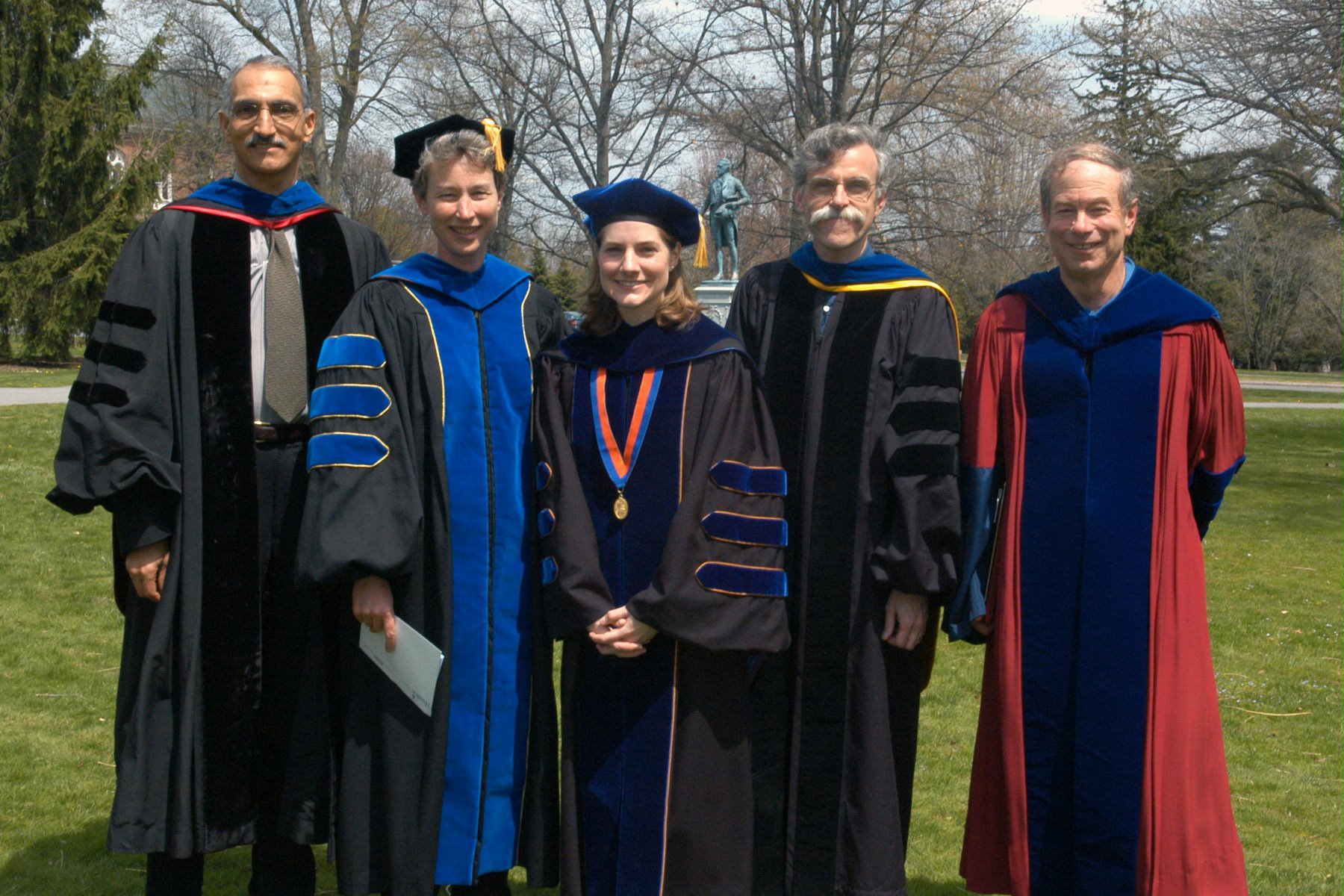 Hamilton College's highest awards for teaching were presented on May 6 to five faculty members from the English, government, economics, psychology and philosophy departments. They were honored during the Class & Charter Day celebration, an annual convocation recognizing student and faculty excellence during the preceding academic year.
Frank Anechiarico '71, the Maynard-Knox Professor of Government and Law, was awarded the Samuel & Helen Lang Prize for Excellence in Teaching; Associate Professor of English Nat Strout received The Christian A. Johnson Professorship for Excellence in Teaching; Assistant Professor of Psychology Tara McKee was awarded the John R. Hatch Excellence in Teaching Award; and Associate Professor of Economics Ann Owen received The Class of 1963 Excellence in Teaching Award. Professor of Philosophy Bob Simon received a new award from the Student Assembly, in honor of the late Sidney Wertimer, professor of economics, emeritus.
Frank Anechiarico '71, The Samuel & Helen Lang Prize for Excellence in Teaching
Frank Anechiarico, the Maynard-Knox Professor of Government and Law, is a 1971 graduate of Hamilton and received his doctorate from Indiana University. He studies constitutional law, public administration, official corruption and urban politics. He is administrator of Hamilton's Program in Washington, D.C., and has served as administrator of Hamilton's Program in New York City.
He is the coauthor (with Eugene Lewis) of Urban America: Politics and Policy (2nd ed., 1983) and the author of "Suing the Philadelphia Police: The Case for an Institutional Approach," Law and Policy Quarterly (1984) and "Remembering Corruption: The Elusive Lessons of Scandal in New York City," Corruption and Reform (1990).
Anechiarico is contributing editor of "Corruption and Racketeering, The New York City Construction Industry," a report to the governor from the New York State Organized Crime Task Force. He is co-author with Steven Lockwood of "The Responsibility of the Police Command for Street Level Action," Law and Policy (1991) and with James B. Jacobs of "The Continuing Saga of Municipal Reform," Urban Affairs Quarterly (1992) and "Visions of Corruption Control," Public Administration Review (1994).
Anechiarico was a research fellow of the Center for Research on Crime and Justice at New York University Law School during 1991-92. Anechiarico and Jacobs' book, The Pursuit of Absolute Integrity: How Corruption Control Makes Government, was published in 1996. Anechiarico's latest project is a book on the relationship between ethics and the quality of performance in public management. He is an organizer of the European Public Administration Conference on Ethics in Leuven, Belgium in 2005.
In nominating Anechiarico for the award, a student wrote, "Professor Anechiarico has shown steadfast dedication to supporting the deeply rooted Hamilton tradition of intellectual curiosity, freethinking and written and oral prowess." Another said, "I would not have had such an incredible experience at Hamilton if it wasn't for Professor Anechiarico. I would not be the student that I am today if I hadn't had the privilege of having him as a teacher."
Another student nominator wrote, "Professor Anechiarico's prowess as an academic is only one small part of what makes him such as outstanding professor… Perhaps what is most impressive about Frank as an influential and outstanding member of our tenured faculty is his genuine desire to connect with his students outside of the classroom and beyond the course of the semester….Frank Anechiarico is one of the best resources that this institution has to offer."
Anechiarico is the sixth recipient of the award, which is given annually to a senior, tenured faculty member. It is presented on the basis of superior teaching and for having a significant and positive impact on students. The fund was established by Helen Lang, the mother of Michael C. Lang, Class of 1967.


Nat Strout, The Christian A. Johnson Professorship for Excellence in Teaching
Nat Strout joined the Hamilton faculty in 1981 after earning a Ph.D. from the University of Rochester. He teaches and studies the literature of the English Renaissance, in particular the drama of Shakespeare and his contemporaries. He has published articles on poems and court masques by Ben Jonson, on John Ford's play 'Tis Pity She's a Whore and on the idea of mutuality in Shakespeare's As You Like It. He is a contributor to Approaches to Teaching Shakespeare's Hamlet, published by the Modern Language Association. Strout served as associate dean of the faculty from 1992-96.
The Christian A. Johnson Award recognizes a senior professor who has demonstrated exceptional commitment and interest in undergraduate education and is one of the College's most prestigious honors. The recipient is appointed to this endowed chair for three years and is provided an annual stipend in support of teaching and professional development activities.
A student who nominated Strout for the award wrote, "Professor Strout's enthusiasm for, knowledge of and experience with Shakespeare allowed him to present the plays in a way that captivated and inspired me." A colleague who wrote in support of his nomination wrote, "I know that I become a better teacher – or at least a more thoughtful and flexible teacher – every semester because of Nat's continued influence and feedback."
Another nominator wrote, "Nat constantly reinvents the upper-level Renaissance literature courses that he teaches but even the Shakespeare course – switching plays, revising papers topics, rethinking certain kinds of expectations and assignments, highly attuned to the preparation and needs of particular students in a particular semester."


Tara McKee, The John R. Hatch Excellence in Teaching Award
Tara McKee, assistant professor of psychology, earned a Ph.D. and master's in clinical psychology from the University of Connecticut. Her clinical work has focused on children in school settings and in-patient hospital settings. Her research focuses on families coping with children with varying challenges such as developmental disabilities and behavior disorders as well as the impact of behavioral disorders on the transition to college. McKee is author or co-author of numerous papers published in Journal of Clinical Child and Adolescent Psychology, Applied Social Psychology, Behaviour Research and Therapy, Journal of Attention Disorders and Journal of the American Medical Association, and has made several invited presentations.
The John R. Hatch Class of 1925 Excellence in Teaching Award was established in 1998 by Alfrederic S. Hatch, a 1958 Hamilton graduate, in memory of his father, who graduated from Hamilton in 1925. It supports an annual prize for a tenure-track faculty member who has been employed by the college for fewer than five years, and who has demonstrated superior teaching, high-quality scholarly research and a significant and positive impact on students.
In nominating McKee for the award a student wrote, "Tara respects her students; therefore we respect her and want to do well by her and ourselves. I have never cared about workload or the perfectionism demanded of me and that is a sign of a good professor. She makes the class about learning as well as for respect for oneself and for the material." Another wrote, "Since it can be assumed that all faculty members are competent in their field of study there are specific traits outside the world of academics that make for an effective professor. These traits are what make Tara such a successful and moving professor."

Ann Owen, The Class of 1963 Excellence in Teaching Award
Ann Owen, formerly a Federal Reserve economist, earned a Ph.D. from Brown University and an M.B.A. from Babson College. She has diverse research interests and has published several papers on long-run growth and income distribution as well as teaching economics to undergraduates. As a former banker, Owen also has an interest in electronic currency (e-cash) and the presence of banks on the Internet.
Her current research projects examine the effects of international trade on health, savings behavior, and how economic growth affects attitudes towards women in both developed and developing economies. She teaches courses in economic growth, monetary policy, macroeconomic theory and statistics. Owen also serves as director of the Arthur Levitt Public Affairs Center and is a board member for the Committee on the Status of Women in the Economics Profession.
A colleague who nominated Owen for the award wrote, "Her door is (almost) always open and she gives generously of her time to her students and to colleagues. She cares deeply about her teaching and thinks clearly about how to help students learn." Another nominator wrote "Ann is a true model for the type of teacher-scholar that Hamilton needs to retain and continue to attract."
The Class of 1963 Excellence in Teaching Award was established in 1988 to recognize one Hamilton faculty member each year who demonstrates extraordinary commitment to teaching.


Bob Simon, The Sidney Wertimer Jr. Award
Bob Simon holds a Ph.D. from the University of Pennsylvania. A past Rockefeller Foundation and National Endowment for the Humanities fellow, he has also served as president of the Philosophic Society for the Study of Sport. He was the beloved coach of the men's varsity golf team at Hamilton from 1986-2000, and is the author of Fair Play (Westview Press) on sports and social values. Simon is the recipient of numerous teaching awards and sits on the editorial board for the Journal of the Philosophy of Sport.
Hamilton's Student Assembly initiated this award in 2005 in memory of the late Sidney Wertimer, professor of economics, emeritus, who died in February. The award recognizes a faculty member "who is recognized as a mentor and active participant within the Hamilton community."