Teagle Foundation Funds NY6 Pilot Project
---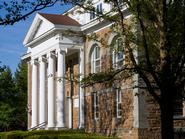 The Teagle Foundation of New York has awarded a $150,000 grant to the New York Six Liberal Arts Consortium (NY6) for the New York Six Blended Learning Project. This pilot project will engage faculty from the six-member campuses in the integration of blended or hybrid learning in new or existing courses. Classes will include face-to-face engagement combined with technology-based elements, such as online tutorials or modules, online journals, blogs, webinars, videos and group chats.
The New York Six Liberal Arts Consortium is a cooperative venture of six Upstate New York liberal arts institutions: Colgate University, Hamilton College, Hobart and William Smith Colleges, St. Lawrence University, Skidmore College, and Union College. The Consortium facilitates collaboration among its member institutions in fulfilling their educational missions and serving the public good. Through the sharing of expertise and resources, the Consortium enhances opportunities for students, faculty, and staff, while reducing colleges' individual and collective operating and capital costs.
"Our institutions are actively exploring emerging pedagogies such as blended learning to determine the most effective ways to integrate technology into an already strong liberal learning foundation," said Amy Doonan Cronin, executive director of the New York Six. "The support of the Teagle Foundation will enable faculty to collaborate with colleagues on other member campuses in the development and testing of hybrid courses."
The blended learning courses will be offered to students during the 2014-15 academic year. The goal of the project is to enhance and improve student learning outcomes while also examining the impact of blended learning on the experience of both students and faculty.