Tending to Injuries in the Wilderness
---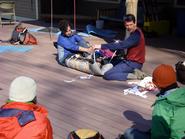 Over the past month more than 40 Hamilton students participated in a Wilderness First Aid Certification course offered through the Hamilton Outing Club (HOC) with the outdoor leadership and safety school SOLO, Stonehearth Open Learning Opportunities. HOC offered students the opportunity to take the class, a two-day, 16-hour course, over two weekends in October in the Glen House.

Wilderness First Aid (WFA) certification is a requirement for students who are looking to become certified HOC leaders entitled to jitney vans and club reimbursement for trip expenses. In addition to WFA, prospective leaders are required to attend a series of four leadership workshops taught by HOC officers in the Glen House.

SOLO's WFA class is anything but boring. Because the knowledge taught in WFA could someday save someone's life, instructors focus on keeping the class engaged through group activity and practical application of skills in mock emergency situations.

The WFA class covers five main areas: Response and assessment, musculoskeletal injuries, environmental emergencies, survival skills soft tissue injuries, and medical emergencies. Following lessons, students are brought outside and practice such things as crafting makeshift splints for broken bones, treating lacerations, and taking heart and respiratory rates. Periodic written quizzes are also given to gauge personal progress.

SOLO feels that a hands-on approach to first aid is helpful because it helps ingrain in students the importance of what they are learning and lets them apply what they are learning in a field setting. The culmination of the course is a mock crisis play-acted by members of the class, where the rest of the students have to team together and tend to the players' ailments.

Enrollment in WFA through HOC has increased nearly fourfold since the class was first offered at Hamilton in 2007. The first year's enrollment was 12, last year's grew to 28, and this year skyrocketed to 55. With a limit of 30 per class, this is the first year that HOC has had to offer the class during two separate weekends, a signifier of growing levels of interest among the student body in outdoor recreation.