Tewksbury and Colleagues Awarded National Prize for Online Teaching Resources Web Site
---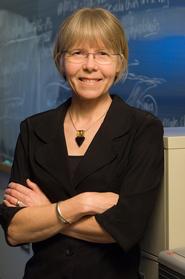 Barbara Tewksbury, the Upson Chair for Public Discourse and Professor of Geosciences, is part of a team that has won a national award for a web site that they have developed over the past eight years to improve undergraduate geoscience education. The Web site
On the Cutting Edge
: Professional Development for Geoscience Faculty, has been awarded the 2009 Science Prize for Online Resources in Education (SPORE) by the American Association for the Advancement of Science (AAAS) and
Science
magazine.
The Web site was one of 12 winners from nearly 100 entries. The February 26 issue of Science magazine carries an
essay
by the team about the Cutting Edge project and web site. The project is the work of four collaborators: Tewksbury, Heather Macdonald (College of William and Mary), David Mogk (Montana State University), and Cathryn Manduca (Carleton College).
The Science Prize for Online Resources in Education (SPORE) was established to encourage innovation and excellence in education, as well as to encourage the use of high-quality online resources by students, teachers, and the public. In 2009, the prize recognized outstanding projects from all regions of the world that bring freely available online resources to bear on science education.
"We are absolutely thrilled to receive this award. Many of the resources on our website are broadly applicable to teaching in any field, and this award will make our resources more visible to those outside the geosciences," said Tewksbury.
On the Cutting Edge has had more than $8 million in NSF funding over the past eight years to catalyze improvements in undergraduate geoscience education by offering face-to-face and virtual workshops for geoscience faculty and by developing an extensive web collection. The project has offered more thanr 50 workshops over the past eight years and has reached a remarkable cross section of college and university geoscience faculty. More than 25 percent of all geoscience faculty in the U.S. have attended a Cutting Edge workshop from more than half of all colleges and universities that teach geoscience in the US.
The Cutting Edge website is a unique collection of resources for teaching that broadens the reach of the workshops and provides high quality, readily accessible resources for teaching geoscience. The collection is truly a community resource and has been built around workshop topics in large part from contributions by participating faculty. The Cutting Edge web collection now includes more than 4000 pages, 33 topical collections, and more than 1200 community-contributed teaching activities. In 2008, 550,000 visitors made more than 650,000 visits to the site and viewed more than 1.5 million pages. Of those visitors, 13,000 returned to the site at least six times.
One of the most widely used resources on the Cutting Edge Web site is the online course design
tutorial
that Tewksbury developed. The tutorial provides a practical strategy for designing or redesigning courses to make them both more innovative and more effective. This tutorial was reviewed and included in the
MERLOT
collection (Multimedia Educational Resource for Learning and Online Teaching) and earned a top five-star rating.
The web resources are widely respected and extensively used. On hearing about the SPORE award, Suzanne Pierce (Assistant Professor at the Jackson School of Geosciences, University of Texas at Austin) wrote, "I've been so thankful for the content of the Cutting Edge Web site. I originally found the 'Preparing for an Academic Career Workshop' through the Cutting Edge site. Participation in that course has helped me feel more confident about my strategy for building a research program with graduate student involvement. In my first year on campus, I've probably visited the Cutting Edge resources at least monthly. I expect to spend even more time looking at resources and learning from the many useful tips as I prepare to teach my first class this coming fall. Additionally, I find myself forwarding the Cutting Edge links to people frequently, non-geoscientists included. Without fail, the folks that I've sent it to have responded with amazement and appreciation for the vast knowledge base that's been created."
The SPORE award is the latest honor for Tewksbury, who is devoted to both teaching and scholarship. She is a past president of the American Geological Institute, the National Association of Geoscience Teachers, and the Council on Undergraduate Research (Geology Division). She is also a Fellow of the Geological Society of America and a Senior Fellow of SENCER (Science Education for New Civic Engagements and Responsibilities). In 1997, she received the New York State Professor of the Year Award from the Carnegie Association for the Advancement of Teaching. She has also won the Neil Miner Award from the National Association of Geoscience Teachers and received an honorary Doctor of Science degree from St. Lawrence University for her work in geoscience education.
Science,
a publication of AAAS, is considered one of the world's most prestigious scientific journals and has the largest paid circulation of any peer-reviewed general science journal in the world, with an estimated total readership of one million. AAAS is an international non-profit organization dedicated to advancing science around the world by serving as an educator, leader, spokesperson and professional association. AAAS serves some 262 affiliated societies and academies of science, serving 10 million individuals.