Tewksbury Presents at GSA Meeting
---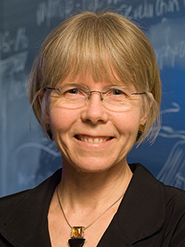 Upson Chair for Public Discourse and Professor of Geosciences Barbara Tewksbury gave several presentations at the annual national meeting of the Geological Society of America held Oct. 27 – 30 in Denver.
Tewksbury co-convened a special session of papers titled "From Desert to Delta: Geologic Research and Applications in Egypt in the First Decade of the 21st Century." In that session, she was lead author on "The Desert Eyes Project Part I: Polygonal Faults in Cretaceous Chalk and Enigmatic Fold Structures in Eocene Limestones, Western Desert, Egypt," the main report of research work on the NSF-funded Desert Eyes project.
She was a co-author on several other papers: "Egypt, Gift of Geology," "The Desert Eyes Project Part II: Structures along east-west and north-south faults of the Western Desert, Egypt," "Deformation Bands in Poorly Sorted, Poorly Lithified and Shallowly Buried Sandstone Along the Seiyal Fault, Western Desert, Egypt," as well as "Investigation of Folds and Faults in Eocene Carbonates of the Serai Formation Using Satellite Imagery, Western Desert, Egypt," written with Tucker Keren '13.
Tewksbury also presented three invited talks during the meeting: "Geoscience Education for the Anthropocene," "From Virtual Field Trips to Geologic Map Interpretation: Using Google Earth to Teach Geologic Thinking and Visualization," and "50 Years of Progress in How Undergraduate Geoscience is Taught: Reflections on the Agents of Change."
In addition, she was a co-author on "On the Cutting Edge and a Decade of Transforming Geoscience Education."