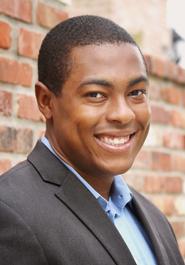 Richard Newton, assistant professor of religion at Elizabethtown College, will give a lecture titled "The African American Bible: Bound in a Christian Nation" on Monday, Feb. 16, at 4:10 p.m., in room 102 of the Kirner-Johnson Building. The lecture is free and open to the public.
In his lecture Newton will argue that scriptures are not just the stories we read, they're the ones that read us back. Whether on the slave plantation, the March on Washington, the White House lawn, or the streets of Ferguson, black persons' fate has been tied to the Bible. The question he'll address is "What does this tell us about America and the Good Book?"
Newton's scholarship focuses on the cultural politics of scriptures– sacred and secular, ancient and modern, written and not written. He has shared his reflection in forums as varied as the Journal of Race, Ethnicity and Religion, In Media Res, and Biblical Interpretation.
Newton double majored in religion and anthropology at Texas Christian University, and went on to receive a master of divinity from the Perkins School of Theology at Southern Methodist University. He is currently studying at Claremont for a doctorate in Critical Comparative Scriptures. In addition to teaching religion, anthropology, and writing courses at varying universities, he has participated in an archaeological dig in Galilee, and served as a research assistant at an ethnographic field school in Mexico.
Newton's lecture is sponsored by the Days-Massolo Center and the Dean of Faculty.