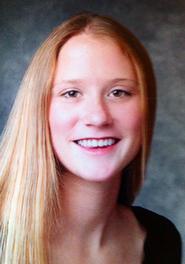 Bellevue Hospital Center, which was founded on March 31, 1736, is the oldest public hospital in the United States, and has always been focused on individualized care for the patient. Charlotte Beers '16, a neuroscience major, is experiencing this quality care first-hand as a research associate at the Manhattan-based care facility.
Beers found her Bellevue position through a posting on HamNet, the college's online portal for job and internship postings, and is sponsored through the Summer Internship Support Fund.
"The most interesting and exciting part about medicine for me is the patients," Beers revealed. "Medicine is such a unique field because you are typically interacting with people at their worst. It combines a person's passion for science with their interpersonal skills and has shown me just how fulfilling [a job in the medical field] can be."
Beers is working in the Emergency Department, assisting the staff with various aspects of their clinical research studies. Her duties include obtaining written consent, interviewing patients, administering surveys, assisting residents and physicians, and completing the study's forms. She is impressed by how much she has learned in her short time at the hospital, observing the doctors, talking to medical students, and becoming familiar with the jargon used by personnel.
One of Beers' responsibilities is to find potential participants for current studies. She combs the hospital's database for eligible patients, then approaches the doctor or nurse treating that patient to make sure they are a good fit. "Once I have determined that the patient meets all requirements," she explained, "I will consent them, complete the required questionnaire, and collect a specimen if needed."
Of the studies Beers is recruiting for, one "looks directly at the prevalence of pathogens in cerebrospinal fluid (CSF) obtained from the Emergency Department patients," she explained, "in order to improve the current diagnostic testing used to examine CSF." While another examines strain US-300, capable of transforming Staph aureus from benign to a life-threatening illness. Beers said that "the purpose of the study is to identify the mutations responsible for invasive genotype switching that causes MRSA to be so lethal."
Beers is also working in the Neurosurgery Brain Research Lab, assisting physiatrist Afika Samdami in conducting eye-tracking tests on patients with brain trauma. "The eye tracker has proven to be extremely accurate because it can pick up on brain injuries, like concussions, that the CT scan cannot," Beers noted. She described the experience as "life-changing," and said that "[she] couldn't have asked for a more rewarding experience."
Working at Bellevue has solidified Beers' desire to pursue a career in the medical field. "I want nothing more than to be able to help patients like I saw doctors and nurses do this summer," she concluded. "This experience has given me the motivation that I need to continue to work hard [for medical school] and to enjoy the rest of my time at Hamilton."
Charlotte Beers is a graduate of Fayetteville-Manlius High School, NY.