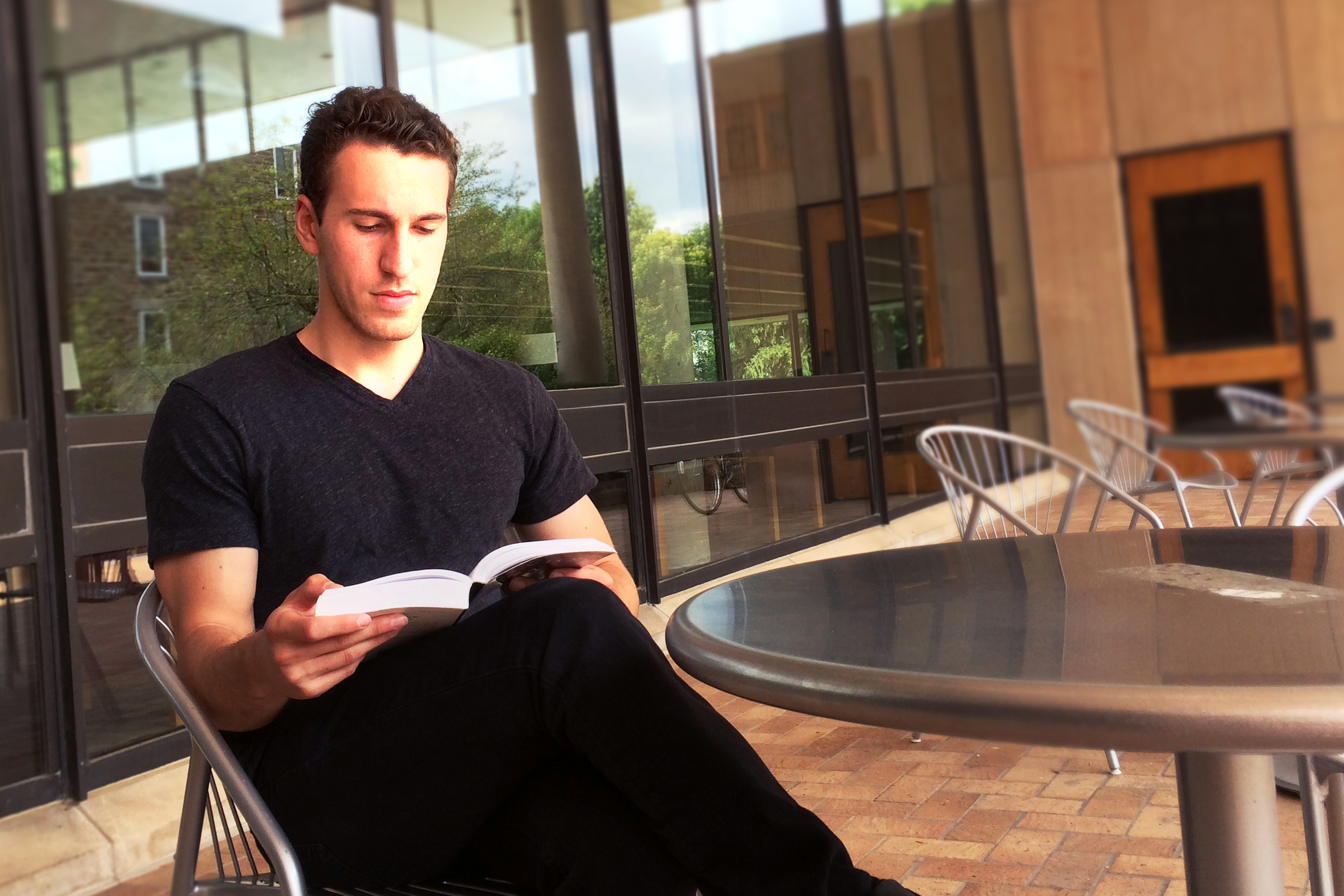 The Cantos, by 1905 Hamilton alumnus Ezra Pound, is an 800-page, unfinished epic poem that is divided into 120 sections, or cantos. The work is widely regarded as controversial due to its experimental style, being loosely structured and arcane, and Pound's publicized fascist sympathies. "A good deal of the political and economic material in the Cantos is [infamously] wrong-headed," John Rufo '16 stated, "but the poetic method and forms are not inherently fascist or anything like that."
Rufo, an English major with a concentration in creative writing, is spending the summer developing an independent Emerson project that examines Pound's work. Steve Yao, the Edmund A. LaFevre Professor of English, is advising Rufo on his project, "Reading and Writing Pound: A Creative Investigation of The Cantos," which he described as "a hybrid that involves writing poetry and analytical academic English scholarship."
The project has two components: reading The Cantos, along with related primary and secondary scholarly material, and using the resources available in the Rare Book Room, with assistance from Director and Curator of Special Collections and Archives Christian Goodwillie. Rufo is particularly intrigued by the Omar S. Pound archive, a collection of letters between Pound and his son.
Rufo's work has already paid off. Sortes Poundianae, one of his lyric essays, a sub genre of essay writing, combining elements of poetry, essay, memoir, and research writing, was recently published by the online literary journal HTMLGiant. The journal has also published his review of Steve Bradbury's new translation of Hsia Yü's Salsa. "Both pieces are direct results of my project and I'm thrilled that the project is already pushing beyond Hamilton," Rufo remarked.
Yao introduced Rufo to the collection this past fall, as part of his Asian-American Literature course. "I was amazed at the wealth of Ezra Pound material we had access to," Rufo confessed. "As undergraduate students, you typically don't get a chance to look at this sort of material."
Although he was "blown away" during a reading by W.S. Merwin while he was in high school, Rufo "didn't get heavily involved in reading and writing poetry until coming to Hamilton." Previously, he "was still mostly interested in writing dense, experimental fiction."
Associate Professor of English Jane Springer, "especially helped spark [his] interest [in poetry];" while former Visiting Professor of English Jules Gibbs, "always mentioned that poetry demands at least a five to 10 year 'apprenticeship' phase before you really get crankin,'" something Rufo has remembered throughout the course of his project.
Yao and Rufo read through the poem together, finishing it in early July. "I knew that it would be impossible to read this book without fully dedicating my time and attention to it," Rufo admitted, "and there's no way I would've been able to read it by myself or while I was taking other classes."
Rufo has since been "writing a series of poems and lyric essays that respond to the wealth of poetic and analytical material" from The Cantos and supplementary scholarly sources. At Yao's suggestion, Rufo read Norman Brown's "Love's Body," which, though largely unrelated to Pound, "contains this nugget that [Rufo] thinks accurately portrays [his] project: 'The proper response to poetry is not criticism, but poetry.'"
Describing his creative process, Rufo said "Pound is the springboard and the generative force behind the writing. His interests are wide and extreme -- it's hard not to read his work and feel ready to respond in some way." The lay reader would likely be surprised to see Pound incorporate words and phrases in foreign languages or non-Roman characters into his work, a style Rufo has attempted to adopt.
"My recent poetry is much more preoccupied with multiple forms, languages, and cultures than it has been in the past, particularly Greek and Latin," he explained. "Additionally, reading The Cantos forces the reader to think about politics and economics constantly, and it inspires a desire to put seemingly non-poetic material into poems."
Pound has also inspired artists who work in other mediums, "like it or not," Rufo stated, "the cantos have an immense influence on the … avant-garde -- painting, cinema, [and] sculpture."
Although he isn't exactly sure what he would like to do after graduation, Rufo is considering a Master of Fine Arts programs in creative writing and poetry. "I still have a good deal of time to think about what I'll be up to," said Rufo. "But I'll be always reading and writing poetry," he added, "always, always, always."
John Rufo is a graduate of Manlius Pebble Hill in DeWitt, NY.